| | | |
| --- | --- | --- |
| Articles 25 out of 111 | Showing 1 records/page | | |
Impact Protection Rails from Jtech Services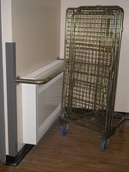 Date of article: 05-Apr-12
At a recent hospital project to remove the existing damaged LST radiator covers and to replace with their own Radiator Guards, Jtech Services also provided their Impact Protection Bars for an area where trolleys can easily crash into a guard which is situated opposite the lifts and near to the Kitchens.
Working with their partners Fairall Engineering of Bridgnorth, Jtech Services supplied this particular application with a heavy gauge formed stainless steel tube so that it would blend in with other handrails on site. Other materials and finishes could also be used if so desired.
The protected guards are designed to give easy access for cleaning and maintenance during their long years of service. Each guard features our SKS locking mechanism for straightforward, authorised access. Mostly required in a standard white powder coat, Jtech Services can also offer a range of other colours that tie in with the new or existing décor.
The versatility of the Impact Protection Rail design means that it would be suitable for practically any application that may arise on your site.
See what we can offer you - visit www.jtechservices.co.uk and view some other applications.
Or visit the Jtech Services Facebook page and follow us to see our latest projects.
Innovative Solutions – Creative Design
Jtech Services 16 Warrens Way, Telford, TF7 5QB Tel: 44 (0)1952 404352 Fax: 44 (0)1952 418237