| | | |
| --- | --- | --- |
| Articles 447 out of 544 | Showing 1 records/page | | |
Older people's housing pledges offered to MPs ahead of May local elections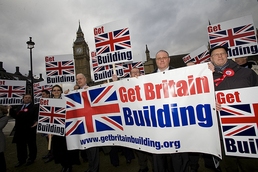 Date of article: 11-Apr-12
Article By: Richard Howard, News Editor
The Housing and Ageing Alliance have challenged all political parties to confirm their commitment to five older people's housing pledges, as politicians look to woo voters in time for the May 3rd local elections.
The five pledges are dedicated to achieving more versatility and independence amongst the elderly, have the accessibility of care provision at their heart, and are defined as follows:
1. DELIVER more and better later life housing options
To provide more and better accommodation suitable for older people by adapting existing homes and providing new specialist homes (such as retirement housing) across all tenures.
2. COMMIT to great design
To plan and develop homes, environments and neighbourhoods that meet the diverse needs at all ages, creating good places in which to grow older.
3. PROVIDE good advice on housing options and practical housing help
To ensure provision of independent, impartial information and advice about later life housing and care options, alongside help with home adaptations, repairs and 'move on' schemes.
4. PROTECT social care budgets
To commit to supporting the health and welfare of older people in the local area by protecting adult social care budgets.
5. APPOINT an Older People's Champion
To join up all local planning and commissioning of housing, care and health provision for older people.
Fresh funding for new housing schemes has been confirmed by Chancellor George Osborne, including an extra £150m for the Homes and Communities Agency's (HCA) 'Get Britain Building' programme, and the Agency has reported on a successful twelve months helping local authorities to achieve regeneration.
Chief executive Pat Ritchie said: "We have utilised our enabling role to help communities achieve their housing ambitions, and significantly invested in the places that need it most."
Mr Ritchie went on to say: "we will be implementing the new Regulatory Framework, prioritising the accelerated delivery of land and getting stalled sites moving again through Get Britain Building; all of which will be set against the Government policy landscape, particularly around Core Cities, growth and localism."
The local elections are being contested throughout Wales and Scotland, as well as in 128 local authorities in England, while the polling date also sees the fourth London mayoral election being held.
Image; Westminster launch of Get Britain Building: courtesy of the Conservative Party