| | | |
| --- | --- | --- |
| Articles 320 out of 548 | Showing 1 records/page | | |
Warwickshire County Council supports new company formed to help adults with a disability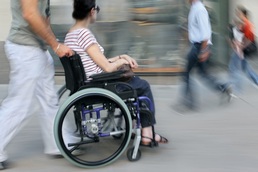 Date of article: 05-Jul-12
Article By: Richard Howard, News Editor
Adults with learning disabilities, in the Nuneaton and Bedworth areas, can now benefit from a new Community Hub designed specifically to suit their needs, while also being able to access the services of new company, Individual Support Solutions (ISS), set up by two former workers of Warwickshire County Council in order to help individuals achieve a more satisfying and independent lifestyle.
Through ISS, it is intended that adults with learning and physical disabilities will be empowered to make the most of community facilities they might be missing out on, such as colleges, leisure centres and possible employment, as well as supporting life skills such as travel, computer skills and healthy eating.
The Community Hub will also work to offer support and guidance to individuals and their families, providing valuable advice and information so that people feel they can tackle the challenges of living with a learning disability without feeling cut off from the rest of the world.
Still working in collaboration with the council, company owners Alison Malcolm and Sarah O'Shaughnessy have spoken of their delight at being able to further the contribution made to the lives of adults with a disability.
Sarah O'Shaughnessy said: "Alison and I are both passionate about working with people with Learning Disabilities. Being awarded the Community Hub Contract is brilliant because it means we maintain strong links with the County Council and they continue to benefit from all the experience and training we have gained from them over the years."
Alison Malcolm also comments: "Having worked for Warwickshire County Council for many years we are thrilled to set up our own company, potentially giving us the opportunity to continue to work with customers and families we have known for many years."