| | | |
| --- | --- | --- |
| Articles 314 out of 544 | Showing 1 records/page | | |
£5 million groundbreaking dementia service opens in Blackley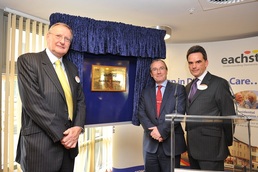 Date of article: 09-Jul-12
Article By: Rachel Baker, News Editor
A groundbreaking Manchester based dementia service opened in Blackley on 28th June.
Professor Alistair Burns, the Department of Health's national clinical director for dementia, officially opened 'EachStep Blackley', by declaring national social charity Community Integrated Care's dementia care service: "One of the most innovative care services I have seen."
EachStep Blackley delivers a holistic range of specialist dementia care services from one central location, supporting people from their initial diagnosis until the end of their lives.
The service incorporates a care home which provides 24-hour residential and nursing support for 48 people; a respite service for 12 people which offers short-term support when needed; as well as a large day care service.
It also provides home care across Greater Manchester, supporting people with dementia to continue living independently in their own homes.
The innovative EachStep model applies research in the field of dementia care, with charity, Community Integrated Care working alongside academics, community groups and carer groups. Together they provide a practical service that truly embraces and applies the aims of the National Dementia Strategy.
Speaking at EachStep Blackley's launch event, Professor Burns said, "I have chosen to support EachStep Blackley because this is such a new and innovative way to care for people with dementia.
"EachStep really raises the quality of life for people with dementia and also provides support for carers, and for me, this is at the core of the National Dementia Strategy and the Prime Minister's Challenge on Dementia"
"EachStep is one of the most innovative services I have seen. I have been so impressed by the staff I have met here, the quality and facilities of this wonderful building and the community involvement the service encourages. EachStep is a great start on creating a dementia friendly community."
Neil Matthewman, chief executive of Community Integrated Care, explains: "The increasing prevalence of dementia is one of the most challenging issues that society faces today and it is only going to become a more acute problem for future generations.
"Our EachStep model is exactly what is needed to meet these challenges, assisting people with dementia through any difficulties they may face by offering specialist support delivered by highly trained, caring staff in exceptional facilities; giving people with the condition the comfort and stability that they deserve.
"We were delighted to have someone of Professor Alistair Burns' stature in the field of dementia care open our service. His positive feedback on our EachStep model and service was a great acknowledgement of three years hard work by our charity to create a new approach to dementia care that delivers the highest standards."
Photo: Simon Attwell , chair of Community Integrated Care (left), Professor Alistair Burns, national clinical director for dementia, Department of Health (centre) and Neil Matthewman, chief executive of Community Integrated Care, officially open EachStep Blackley