| | | |
| --- | --- | --- |
| Articles 306 out of 546 | Showing 1 records/page | | |
Timeline of brain's descent into Alzheimer's, established in US study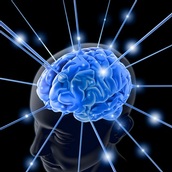 Date of article: 12-Jul-12
Article By: Rachel Baker, News Editor
Scientists have evaluated a variety of pre-symptomatic markers of Alzheimer's disease in 128 subjects from families genetically predisposed to develop the disorder. Individuals in the study have a 50 per cent chance of inheriting one of three mutations that are certain to cause Alzheimer's, often at an unusually young age.
The study is being conducted by an international research partnership known as the Dominantly Inherited Alzheimer's Network (DIAN), including scientists at Washington University and elsewhere.
The scientists used a medical history of the subjects' parents to estimate the age of the onset of symptoms for the study participants. They were then able to assemble a timeline of changes in the brain leading to the memory loss and cognitive decline that characterises Alzheimer's.
The earliest of these changes, a drop in spinal fluid levels of the key ingredient of Alzheimer's brain plaques, can be detected 25 years before the anticipated age of onset. As an example, Bateman says that the new data show that plaques become visible on brain scans 15 years before memory problems become apparent.
This information has been taken from Washington University School of Medicine's press release provided by Alzheimer's Society. Professor Clive Ballard, director of research at Alzheimer's Society commented: "This important research highlights that key changes in the brain, linked to the inherited form of Alzheimer's disease, happen decades before symptoms show, which may have major implications for diagnosis and treatment in the future.
"There are also good indications that these findings could apply to people with non-hereditary Alzheimer's disease, but we can't yet be sure. Further research into this complex condition is needed to confirm a definite link."