| | | |
| --- | --- | --- |
| Articles 301 out of 552 | Showing 1 records/page | | |
Carefound sees rising demand for home and dementia care provision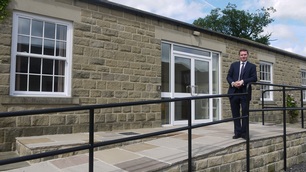 Date of article: 18-Jul-12
Article By: Richard Howard, News Editor
Home care provider to the Harrogate, Ripon and Wetherby communities, Carefound, has completed a move into larger offices as a result of increasing demand for its services.
The relocation into new offices, located at the Oakwood Park Business Centre, shows the speedy growth of the company which was only established last year. Company founder Oliver Stirk comments:
"We are of course delighted to see such strong demand for our home care service. The fact that we are a local, independent company has meant that we have been able to shape our service to meet the precise needs of the families we help. It has also enabled us to create an environment in which our staff are supported to provide an excellent quality of care in the home, something which will be hugely important in improving the lives of our elderly population in the future.
"Our new offices at Oakwood Park will help us accommodate a growing office and community based team. They also provide us with better disabled access and private rooms in which our Home Care Manager can hold confidential meetings with families as they begin the process of considering elderly care. We are always keen to encourage families to pop in should they wish to learn more about Carefound or discuss their specific circumstances in confidence."
Central to Carefound Home Care (Harrogate, Ripon, Wetherby)'s domiciliary provision is a commitment to helping adults diagnosed with dementia to remain independent within their own homes, achieved through a focused training programme that allows carers to feel confident and informed in the many challenges associated with dementia care:
Mr Stirk continues: "We are continuously developing the knowledge building of dementia amongst our team and see this as extremely important in improving outcomes for our clients. Although we recognise that there are instances where residential care is the best option, we believe that with specialist help from professional, well trained carers many more people who suffer from dementia will be able to remain at home in the future."
Image: new Carefound offices