| | | |
| --- | --- | --- |
| Articles 287 out of 548 | Showing 1 records/page | | |
Sevacare buys up Welsh home care provider Prompt Care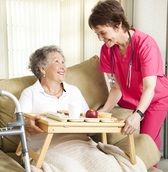 Date of article: 26-Jul-12
Article By: Sue Learner, News Editor
Home care provider Sevacare has bought Prompt Care Ltd, which provides domiciliary care in Newport, Cardiff, Torfaen and Rhondda Cynon Taf.
The acquisition takes Sevacare up to 40 branches and means the company will now be delivering some 75,000 hours of dedicated, person-centred care a week across the UK.
This is Sevacare's fourth acquisition, following on from CM Community Services in Kirklees, Brambleton in the North West in 2009 and Charnwood in Leicestershire earlier this year.
Founder and chairman Ravi Bains said: "The growth of Sevacare continues with the successful purchase of Prompt Care and we are very proud to have that company join us. Prompt Care has an excellent background in providing high quality domiciliary care services in Wales and we look forward to building on that reputation and moving the business forward in the future."
Chief executive Roger Booker added: "We look forward to developing the existing business from the established branch network and growing into new regions in South Wales, bringing the Sevacare quality to a new area of the UK. Our planned future growth will see us invest in new recruitment opportunities in South Wales and we hope to be creating several hundred jobs over the next two to three years."
Prompt Care began as the Prompt Care Nursing Agency in 1998, expanding into domiciliary care in 2004.
Sevacare has its head office in Wolverhampton and branches spread across the North East, North West, Yorkshire, East & West Midlands, South East and London areas.