| | | |
| --- | --- | --- |
| Articles 279 out of 544 | Showing 1 records/page | | |
Disabled people accused of being 'benefit scroungers'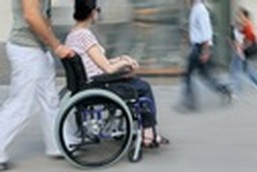 Date of article: 02-Aug-12
Article By: Sue Learner, News Editor
Nearly half of disabled people feel attitudes towards them have worsened in the last year with an increasing number accused of being 'benefit scroungers', according to new research by Scope.
The survey shows benefit-related discrimination has got worse over the last year, while TV shows 'Panorama' and 'Dispatches' have revealed injustices in the work assessment process.
Disabled people claim the small number of people falsely claiming disability benefits known as benefit scroungers and the way their actions are reported, are the main causes of public hostility.
Over 80 per cent said media coverage of benefits scroungers can negatively affect attitudes.
"It is absolutely shocking that in 2012 almost half of disabled people feel attitudes have got worse and many have experienced aggression, hostility or name calling from other people," said Richard Hawkes, chief executive of Scope.
"Disabled people keep coming back to the same concern – benefit scroungers. They single out fraudsters. Yet fraudsters are a tiny minority of claimants."
The results of the survey came as both the BBC's 'Panorama' and Channel 4's 'Dispatches' revealed injustices in the Employment and Support Allowance (ESA) Work Capability Assessment.
ESA provides financial help to people who are unable to work because of illness or disability, but some people argue that the assessments are unfairly finding people fit for work and ineligible for the benefit, as the Government battles the so-called benefit culture.
Dan Scorer, Mencap's senior campaigns and policy manager, said: "These issues have been raised with the Government, who have been reminded of their responsibility to show leadership in promoting a balanced debate around welfare, and more positive images of disabled people."