| | | |
| --- | --- | --- |
| Articles 254 out of 548 | Showing 1 records/page | | |
Care workers in London asked to identify those vulnerable to fire risks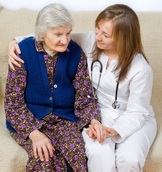 Date of article: 11-Sep-12
Article By: Richard Howard, News Editor
New guidance has been published by the London Fire Brigade in an effort to reduce the number of deaths amongst those with care needs, after figures showed that one person in the capital dies every month because of a fire.
Through educating care workers on fire safety matters, with potentially life-saving information and introductory training available in free leaflets, it is hoped that carers will be better placed to assess risks and act upon any concerns before they become a problem.
Believing that care workers are often the first to see tell-tale signs, such as burn marks on carpets or smoke alarms without batteries, fire chiefs are keen for care staff to contact them with any warning signs to enable any early response and prevent fires before they happen.
Skills for Care CEO Sharon Allen welcomed the new guidance, saying: "This report is a timely reminder that people who use care services are often at serious risk from fire so we welcome this pro-active approach from fire brigades to tackling this problem.
"Brigades across the country have made significant progress in preventing fires so we would urge care workers and their managers to contact their local officers who can offer free expert advice to anyone they think might be at risk."
Chair of London Fire and Emergency Planning Authority's Strategy Committee, cllr Crada Onuegbu, also commented: "This is a great example of London Fire Brigade working with other organisations to make not only London but the nation safer from fire.
"Care staff do a fantastic job of supporting people within our communities and those who have mobility issues. Sadly these people are among the most at risk from dying in a fire. Now care staff will have the skills to spot the warning signs and help prevent these terrible deaths."
Over the last three years it is estimated that 36 out of 119 accidental fire deaths in London involved individuals who sourced care in some form, with the majority of the deceased being smokers, half having mental health issues and 14 recorded as alcohol drinkers.