| | | |
| --- | --- | --- |
| Articles 243 out of 548 | Showing 1 records/page | | |
Social exclusion on the increase for adults in their 50s, and care givers deeply affected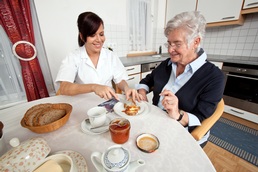 Date of article: 19-Sep-12
Article By: Richard Howard, News Editor
New research has found England to be suffering from a rise in social exclusion, amongst people in their 50s, with the last six years seeing more and more examples of adults being unable to access decent housing, public transport and local amenities.
The study was carried out by the International Longevity Centre-UK (ILC-UK) and funded by Age UK, incorporating the most recent data from the English Longitudinal Study of Ageing (ELSA) in order to assess whether the issue of exclusion amongst older adults has improved or worsened since the last research in 2002. The seven key issues drawn upon to inform the results are defined as: social relationships, local amenities, financial products, civic activities and access to information, decent housing and public transport, cultural activities, and common consumer goods.
The 18% figure of adults in their 50s who felt excluded from two or more areas was up 5% from 13% in 2002, but the study also showed that 38% of those aged 85 or older who felt to be socially excluded had decreased by 10%, while for those aged 60–64 years old the figure was 12.4%.
Alongside the statistics, the ILC-UK research also recorded the key challenges individuals face when combating social exclusion. For example differences were recorded between men and women, with men feeling excluded from social relationships and women from cultural activities, while more non-white individuals were found to be experiencing exclusion (59.8% compared to 47.3%). The research also estimated there to be a 'two-fold increase' of social exclusion amongst individuals who have become care givers, finding in total that 23.9 per cent of people became more excluded between 2002 and 2008.
Baroness Sally Greengross, chief executive of ILC-UK said: "Older people approaching retirement (50–54) appear to be worse off in 2008 compared to 2002. Whilst policy-makers have identified the squeezed middle classes as an at risk group, the squeezed middle age group is another at risk group. This report highlights the importance of taking a life-course approach to ageing. We need to intervene earlier to prevent social exclusion later in life."
Michelle Mitchell, Age UK charity director said: "While this report is welcome, it would be interesting to know more about why levels of social exclusion are rising for people in their fifties, something which the next wave of ELSA data might help us understand. For many being socially excluded can lead to feelings of loneliness which research shows has a significantly adverse effect on physical and mental well-being, equivalent in some studies to well established risk factors such as obesity and smoking."
Dr Dylan Kneale, head of research at ILC-UK said "This report reveals the importance of helping older people access opportunities across a range of domains. We found that becoming excluded from social relationships, civic activities and access to information, cultural activities, and local amenities was associated with a lower quality of life, which in turn could have implications for older people's health and other outcomes."
Calling for a response, the ILC-UK requests that the Government shift the focus of policy of ageing towards prevention – focusing on 'ageing policies' rather than 'older people's policies' in order to impact upon middle-aged people – and asks for strategies to overcome material and non-material disadvantage. The ILC-UK also calls for better outreach provision, the development of a 'widowhood strategy', improved neighbourhood planning and more intervention programmes to help support carers.