Home care group warns that despite Prime Minister's Dementia Challenge, many dementia patients feel abandoned
Date Published:
25 Mar 2013 @ 00:00 AM
Article By:
Laura McCardle, News Editor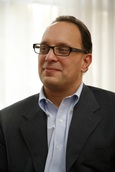 A leading home care group has seen the demand for its specialist dementia services double in the last year despite a Government bid to tackle the condition.
Barry Sweetbaum, founder of SweetTree Home Care Services, claims there is a "clear gap" between the objectives of the Dementia Challenge and what is really happening.
The initiative was launched by David Cameron in March last year to tackle the condition by developing better care and research in an attempt to improve the lives of those living with dementia, their families and careers.
Mr Sweetbaum said: "There is a clear gap between the Government's intention to tackle dementia and the reality of what is happening on the ground, which has left many people with dementia and their families feeling completely unsupported and having to fend for themselves.
"It seems that despite an overwhelming increase in demand for dementia services and the ability to make some very real improvements in the quality of life of those with dementia, at a practical level many of those confronting the illness feel abandoned.
"The drive for better dementia care needs to come through a commitment to collaboration at every level, from Government to local communities, GPs and health and care providers."
Mr Sweetbaum says the service, which works with families across London, "constantly" receives calls from families who "have no idea where to turn" for support.
He said: "If change is going to take place, it is imperative that GPs, social workers and other health care professionals who support those with dementia start to understand the importance of actively directing people to dementia specialists. The Admiral Nursing Team is a wonderful resource, which sadly too many people know nothing about.
"Professionals and relatives supporting those with dementia also need to recognise that making a huge difference in someone's like is often not about spending money but gaining knowledge.
"Improving communication, nutrition and creating a more active, stimulating life for someone with dementia generally costs nothing but can have an enormous impact on how they cope with their dementia and the world around them."
According to the Alzheimer's Society there are currently 800,000 people in the UK with dementia and the charity predicts the figure will surpass one million by 2021.