Former health care analyst, Robert Stephenson-Padron founded Penrose Care in 2012 together with Dr Matthew Knight, a hospital physician, with the laudable objective of providing home care that has the highest ethical principles underlying it.
Mr Stephenson-Padron says: "Using our shared knowledge, Dr Knight and I felt that in home care, the need for reform from private initiative was incredibly strong. We were - and are - outraged by the various scandals in care and felt that we could not wait for laws and regulations to catch up to the challenges we face.
"In home care, due to the lone-work nature of the bulk of the services provided, ethical workforce practices are fundamental to improving social care standards. Regardless of how many white papers, regulations, and policies are written, if the end care professional is not capable of implementing them, they will have been written in vain."
Of course, as a privately-owned enterprise, north London-based Penrose Care has the freedom to set its own agenda. Expanding on the company's guiding principle, Mr Stephenson-Padron says: "We are an innovative, small and fast growing home care provider committed to ethical practices in social care. Penrose Care adheres to a firm belief that to genuinely promote a caring workforce that champions dignity in care, the organisation that employs them has itself to be caring.
"This is key because just increasing funding of the care system will not necessarily ensure that care firms will be more ethical. For example, Sweden, which has the highest proportional public funding for home care in Europe, has suffered its own care scandals by independent sector enterprises."
Essential training
Central to the Penrose Care mission to provide "home care with a human touch" is the requirement for what Mr Stephenson-Padron calls "people we designate as having a 'vocation to care'", and finding such people, he says, has been the company's greatest challenge to date. "We feel that we have just that team now, and have built this up by focusing heavily on looking after our staff.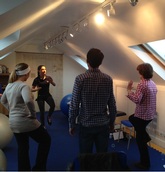 "First, we need to focus on people who are friendly, respectful and caring from the start. After that, workers must be given sufficient training to give them the knowledge and confidence to provide excellent care. Induction training should include all of Skills for Care's recommendations and in our case, we also have our workers train as health care assistants and, uniquely I think, they have to fulfil a 35-hour placement in a local care home.
"After induction, we offer staff a variety of specialist courses, such as a 'Keeping Kosher' course, and give them the option to pursue a vocational diploma in health and social care. Staff are also required to keep their training up-to-date with the help of continuing professional development courses.
To ensure the quality of training is kept high. Penrose Care mainly uses reputable third-party trainers, including the British Red Cross for first aid and Lakefield Training Centre for advanced training in nutrition, food safety, and health & safety.
Secrets of success
Paying care workers an above average salary for the sector, is indisputably helpful as is the flexible organisational nature of the company. "We are able to pay the London Living Wage (currently £8.80 per hour) predominately due to our focus on efficiency." says Mr Stephenson-Padron.
"For instance, some of our staff, including myself, have multi-disciplinary sets of skills, so rather than assigning them a single area of work, our office staff aim to be competent in a variety of areas. This limits idleness, keeps administrative overheads low, and also promotes the skills and competencies of our workers.
"Another example of our commitment to efficiency that promotes quality in care is our NFC-enabled time management system for electronic time keeping rather than a landline-telephone based system. Via this system, workers tap their Penrose Care-provided smartphone on a card inside a client's home when they arrive and tap it when they leave. This is a highly cost-effective system, which leaves more time for actual care.
Of the care workers that are employed by Penrose Care, about half have guaranteed set hours and about half have other commitments (such as studies) but are on call as and when needed. Says Mr Stephenson-Padron: "At any one time, we aim to have excess labour capacity to take on new clients, to adjust to worker holidays, and help ensure our workforce is not overworked. What this implies is that at times, our workers are idle.
"As a solution, we've developed a wonderful partnership with St John's Hospice in St John's Wood, London. One option our full-time staff have when they are idle is to provide assistance at St. John's Hospice at no charge to the hospice. This keeps our workers' skills up-to-date with highly rewarding activities and gives back to our community. It's a demonstration of our commitment to ethical practices.
"In addition, a great benefit of having full-time home care support workers with multi-disciplinary skills is it gives management the opportunity to identify talents that they may not have otherwise identified. A great example is one of our home care workers who discovered her vocation to care while taking care of the infirm in Lourdes, France. "After assisting management with a variety of special projects, we were so impressed by her that we decided to support her becoming a management trainee. As part of this, she is now currently pursuing a Level 5 Diploma in Leadership in Health & Social Care."
Company honours
All the hard work seems to have paid off thus far. "All our client feedback to date has been excellent and we've had no care worker leave voluntarily," says Mr Stephenson-Padron. Penrose Care has also won more than a few honours. "We're one of the country's first Accredited Living Wage Employers and the first independent sector home care provider compliant with Citizens UK's landmark Social Care Charter.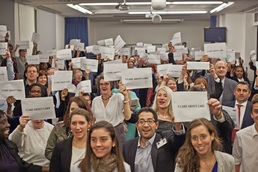 After commencing trading last Spring, Penrose Care has grown at a steady rate. It has doubled its number of clients since July 2013. "But we only want to grow as fast as is possible to maintain our ethical principles," says Mr Stephenson-Padron.
"In terms of direct local authority work, in the future we would be interested in such work provided it can be secured under terms that allow us to continue to comply with Citizens UK's landmark Social Care Charter, which includes paying the Living Wage, paying for travel time, and providing adequate training, of which we are England's first independent sector home care provider to comply.
"So whatever size we are now, and whatever size we may be in the future, we will persistently speak with a big voice promoting excellence in care, amplifying our messages by partnering with charities, such as the Living Wage Foundation and Citizens UK."
Interesting Facts
First job: Shop assistant at Knock-Out Sports Cards, Atascadero, California, USA
Favourite book: No Lost Causes by Álvaro Uribe Vélez
Favourite film: Star Wars, all six
Favourite piece of music: Prayer by Sarit Hadad
Best present: Homemade mulberry jam made by Lakefield Training Centre from berries I picked from Belsize Village's historic mulberry tree
Last holiday: A road trip in California including San Diego, Yosemite National Park, and San Francisco