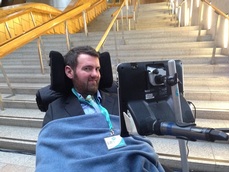 Euansguide.com was created after one family's frustration over the lack of information on wheelchair friendly venues, led them to create a 'tripadvisor style' local directory to share with others with accessibility needs.
The local directory is now a nationwide website providing reviews, comments and testimonials on the wheelchair accessibility of hotels, restaurants, bars, leisure facilities and cinemas.
Six months after Euan's Guides went live, founder of the website Euan MacDonald, who was diagnosed with Motor Neurone Disease in 2003, has been sharing with homecare.co.uk how his hopes and ambitions to empower disabled people are being made a reality through the website. Mr MacDonald explains: "The original idea came to my sister Kiki and I out of the frustration of always having to go to the same places, because we could never find any reliable information as to where I could go using my wheelchair.
"We thought that there must be thousands of people who have the same issues as us, so we decided to take this a step further and create a website to share and learn from others.
"Once we started looking into this idea we quickly realised how patchy the provision of disabled access information is; since then the scope of the website has grown and grown."
For Mr MacDonald getting out and about has become a challenge he faces with the help of family and friends.
"Because it has progressed slowly I have had time to adapt to the big changes in my life, such as using a wheelchair and an eye gaze communication device, however, for many people MND is very fast moving.
"It's not a disease you can face on your own, but you can take on many of the challenges with the help of family and friends. Carers too can make a hugely positive impact. Getting out and about is one of those challenges but it can be done with a bit of planning."
So has he found that the website has been helpful for carers as well? "Absolutely - it is often carers who plan visits and activities. We've also found that carers are equally as passionate about disabled access and the lack of information."
More to be done
Last month a report conducted by the BBC found only three Premier League football stadiums provide the required number of wheelchair spaces, which led to disabilities minister Mike Penning writing to every club to highlight the legal obligations clubs have to provide adequate facilities for people in wheelchairs.
Mr Penning told the BBC: "I'm blowing the whistle on discrimination against disabled people by football bosses.
"All Premier League clubs have arrangements in place to provide access and facilities for disabled fans.
"The highest standards of access are generally at clubs with new grounds, but all clubs, even those working within the constraints of older stadia, work hard to make sure that disabled fans can attend matches and enjoy their football."
Mr Macdonald agrees that more needs to be done to improve wheelchair facilities in public spaces. He says: "From my own experience I think disabled access to venues is improving, but more work still needs to be done.
"We have all been to places where a simple fix could make a huge difference; whether increasing the time that automatic doors stay open, or re-hanging the bathroom door to open out rather than in. It is good for venues to know these things so that they can do something about it.
"I've also found that sometimes venues are very good in terms of what they provide, but not necessarily great at telling people about it.
"I think they are also becoming more aware of the business case for becoming more accessible too. There are 11.6 million disabled people in the UK and there is also a wider network of carers, family and friends. Disabled people, like most others, like to socialise with family and friends and are a source of loyal custom.
It is in the interest of a restaurant to be accessible to a wheelchair user as they will be more likely to make repeated visits with friends and family members, according to Mr MacDonald.
Celebrity endorsements
Euansguide.com has already received praise and endorsements for the work it is doing to help people make informed choices about places to visit, and has been personally commended by author JK Rowling and Professor Stephen Hawking.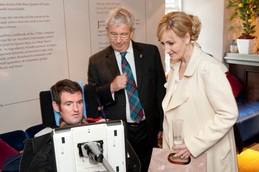 JK Rowling said: "I know, through meeting many people with MS who have disabilities, that there is a dearth of independent and unofficial information about venues and their accessibil-ity. A friendly and straightforward guide, with information from users themselves, is an em-powering development to be heartily recommended."
"The site is a great way for people to share practical first-hand knowledge of venues which is otherwise difficult to find before visiting.
"We want to encourage as many disabled people as possible to get involved and add their ex-periences. Euan's Guide will help people feel comfortable with visiting new places knowing that the venue will be accessible to them."
Mr MacDonald says: ""We are delighted to have had endorsements from JK Rowling and Professor Stephen Hawking."
We've received some great feedback and this has given us even more confidence in the idea, and that Euan's Guide is something that is desperately needed. One of the first comments we received was 'At last, I can look forward to looking in Euan's Guide and finding out if the place I want to visit does have an accessible loo, I can get in the building, and will have people happy to help me'."
"Our ambition is that Euan's Guide can empower disabled people by providing information that will give confidence and choices for getting out and about. We hope that Euan's Guide provides a friendly, honest and realistic alternative to hours of web searching and phone calls, and most importantly removes the "fear of the unknown" when visiting a venue for the first time.
"We're still in the early days, but we hope that disabled people everywhere, and their friends and families, will use the site and contribute to it so that they can help others too."
For more information please visit: http://www.euansguide.com/
First job: Volunteering at Edinburgh Festival - looking after the various artists and making sure they had everything they needed. The usual requests were for bottled water backstage but there was one guy who wanted to get Happy Birthday bagpiped down the phone to his friends in America!
Favourite book: The Hobbit
Favourite film: Trading Places
Favourite piece of music: My favourite album is Led Zeppelin II
What is the best present you have received: A ceramic jug made by my little boy.
Last holiday: Trip to London and Paris for the rugby - unfortunately France won!