Entrepreneur wins &pound100,000 award with cloud-based personal healthcare platform
23-Jan-15
Article By:
Ellie Spanswick, News Editor
A Manchester entrepreneur has received a £100,000 award for his creation of cloud-based personal healthcare platform iPersonally which is designed to offer support to people with learning disabilities.
Dan Lingard, is chief executive of iPersonally and received the award in collaboration with SBRI Healthcare and NHS England for 'Improving outcomes for patients with Learning Disabilities through better remote management of health and well-being.'
Mr Lingard began working in the technology sector to help his youngest daughter who has Down's Syndrome, he said: "For many patients, NHS and Social Care services start with one area but seem to get stuck in an information vacuum when moving between services. The times we have to explain basic things in A&E that delay our daughter's treatment is so scary. Worse still is the thought that one day our daughter will need to explain for herself, so we want her to be able to do that as soon as possible."
Mr Lingard applied for the funding after creating iPersonally, originally intending to provide support to people living with dementia and to help streamline their care. Working in collaboration with the NHS integrated learning disability team and Salford council; he has a further opportunity to win £2 million more funding if successful in the next two stages of the competition.
iPersonally was created with the Smart Assistive Technology sector in mind and uses a personal lifestyle and health dashboard to allow clients and users to have access to and control information on their personal care and who the information is shared with. Smart Assistive Technology is defined by The Foundation for Assistive Technology (FAST) as 'any product or service designed to enable independence for disabled and older people.'
Mr Lingard said: "The system side-steps arguments about the sharing of NHS data and IT systems between the different services and providers with health and social care, and offers the flexibility to be used for anyone, regardless of specific health or social care need, from an early stage in life.
"Even a temporary change in GP can mean having to go over so many basics the visit is a waste of everyone's time. It seems that putting the state, the GPs or the hospital in control of her data is not working.
"iPersonally iNvite, flips that model on its head, starting with individuals and what they feel they need to best get on with their life. It puts all data in one place, accessible through multiple devices, but by avoiding blanket assumptions and supporting appropriate consents, it puts individuals in charge of their data and the sharing of it."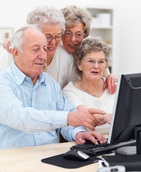 The platform is accessible to everyone and can be used on a smart phone, laptop or tablet and has been designed to be easy to use allowing care workers and professionals to view information at the discretion of the client or patient. Furthermore, iPersonally is created to support personalised care services through planning and not focused entirely on record and information keeping.
Mr Lingard added: "It does not matter how important a health care professional you are you have to be 'invited' to share the data you need, but the advantage is you will get the full picture and the most up to date picture, so if you are a Doctor in A&E you will get access to my Diabetes blood sugar scores for the last 6 months let alone every test I did today and if your A&E computer is not working I can pass you my phone whilst we are speaking to share this with you.
"As a former student at the University, I am proud to be working with Salford Council on this pioneering project which I believe could improve the lives of thousands of families in the region and beyond."