Three years ago, Dan Knowles set up The Mary Knowles Homecare Partnership, named after his grandmother Mary Knowles, who is 102 and still lives at home supported by domiciliary care workers.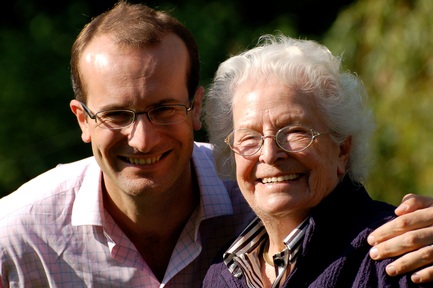 After studying at Harvard Business School and working for seven years as a director of John Lewis, he decided to emulate the John Lewis structure and form a company that was employee-owned.
Mr Knowles had a change in career after seeing first-hand "from the experience of my grandmother's that the sector could be better served - and my John Lewis experience convinced me that an employee owned company would be most effective in improving care standards."
At Mary Knowles, care workers are given a share of the profits and have a say in decisions made about the company.
Employee-ownership
"I believe strongly in employee ownership. Our employees have a stake in our success, and they share in our profits. They therefore naturally want our care standards to be high - because if they are, we all share in our success. Ultimately - if we look after our people well, they will look after our clients well, and the money takes care of itself," explains Mr Knowles.
He has found that being employee-owned "our team are more loyal, stay longer with us and work harder to give great care".
The company has an Employee Forum which meets every six weeks. "We take decisions affecting investment, product quality, pay rates, and any other factors affecting the business. They have real clout and we take action on their recommendations. At our most recent meeting, by way of example, we agreed to change the supplier of gloves following regular complaints from the care team."
Recruitment
He has found the biggest challenge for the company is recruitment. "Oxfordshire is a high employment county and in common with other care companies and the NHS, we struggle to recruit enough great carers. We are growing but not as quickly as I would like."
From next April, all employers will have to pay employees aged 25 and over the National Living Wage (NLW) of £7.20 an hour.
Many in the care sector have expressed concern over how they will be able to afford to pay this, however Mr Knowles says: "We already pay well above the minimum wage and although we expect to put up prices and wages rates next year, this is market-driven, as opposed to being driven by the NLW".
Local authorities have come under fire in recent years for commissioning 15 minutes visits from home care providers with critics arguing that people are missing out on valuable social interaction and much needed care due to these rushed visits.
Mary Knowles Homecare only "undertakes 15 minute visits as part of an overall daily package," according to Mr Knowles, who says: "We currently do one 15 minute visit per day, for a client we visit for longer times during that day. In these circumstances, 15 minute visits are appropriate but otherwise our policy is not to undertake them."
Social care funding
He wants the Government to do more in terms of social care funding and believes that as "a society we simply need to spend more looking after the most vulnerable in our society. The cost saving from looking after people in their own homes is significant, and the quality of life is equally better than alternatives.
"It is clear that home care needs to be thought of much more strategically, with the link between NHS and social care being made more apparent. I have a lot of sympathy for the local authorities who face increased demands and lower budgets - how can this circle be squared?"
In terms of the future, he hopes that one day, The Mary Knowles Homecare Partnership will be a national brand. "In 2016 we will open a second office in an adjoining county, and carry on developing our services."
On a personal note, he has found the "satisfaction from making a difference to people's lives is intense and pleasing, and we have a super team of carers of which I am very proud".
Interesting facts
First job: Social events organiser in a language school
Favourite book: The Horizontal Everest, Jerry Kobalenko
Favourite film: Hope and Glory
Favourite piece of music: Tosca, Puccini
Best present received: My first bike
Last holiday: Glamping with my family in Oxfordshire in August. It rained!