Elderly occupied more than a third of England's hospital beds last winter
10-Dec-15
Article By:
Angeline Albert, News Editor
Just 3.6 per cent of patients, most of them older and frail, took up more than a third of the bed capacity in England's hospitals last year, the Nuffield Trust reveals today.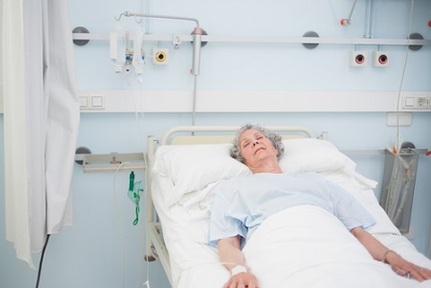 The health charity's analysis of hospital data found older people took up a large proportion of hospital beds last winter because they could not be returned to their own homes or care homes, despite their medical treatment being finished. The issue of 'bed blocking', whereby healthy hospital patients who have concluded treatment cannot be discharged, is largely be due to care arrangements for older patients not being in place.
Bed occupancy rates in many hospitals were running far higher last winter than the 85 per cent generally recommended by experts as the maximum that should be reached. This delayed the admission of patients from emergency departments which stopped those arriving at A&E being seen quickly enough, causing hospitals' 'four hour A&E' rule to be breached repeatedly.
Authors of the Nuffield Trust's findings warn that with no extra funding for winter being allocated this year, the situation will be even worse in the coming months.
The Nuffield Trust states: 'Money and focus should be used more strategically. 3.6 per cent of patients account for 37 per cent of time in NHS beds. Finding ways to safely treat these people outside hospital should be a major priority.'
Black alerts
NHS England has just published its latest monthly figures on how the health service is performing against its targets. By January this year, many Trusts in England had declared major incidents or 'black alerts', whereby hospitals were closed to all new admissions. The research shows the steps taken by Trusts last winter to deal with additional demand included providing extra beds and staff. Some 41 per cent of extra winter funding last year was spent on adding extra beds and staff but this was not enough to close the gap in number of beds. The Nuffield Trust says the NHS is 14,000 beds short of a level that would provide reliable capacity.
Disproportionate Impact
Nigel Edwards, chief executive of the Nuffield Trust said: "Because such a small percentage of patients, most of them frail and elderly, occupied so much of hospitals' bed time last winter, even a tiny fluctuation in numbers among these patients had a disproportionate impact on the number of beds a hospital could free up. "This winter, the NHS's top priority should be to improve care for this small group of patients.
"For many, the problem is not that simple improvements like grab-rails and ramps are needed before they can return to their own homes, though that would certainly allow a number to leave hospital; it is that they are too frail to return home at all in the short term, and instead need intermediate care beds in the community.
"But as we made clear in our response to the Chancellor's Spending Review, social care services are struggling to carry on".
The Nuffield Trust's data on last winter are initial findings from a research paper on pressures on A&E to be published early next year.
Breaking Point
Alzheimer's Society chief executive Jeremy Hughes said: "The NHS is in danger of reaching breaking point. We cannot afford to be in a situation where hospitals are forced to refuse admissions because beds are occupied by people with dementia, who would be better supported in the community.
"We know a quarter of hospital beds are occupied by people with dementia, who are often unable to leave because adequate support in the community isn't in place for them. When they are able to leave, they are frequently in worse health than when they arrived.
"You cannot make the NHS safe or sustainable without investing in social care. Hospitals pick up the pieces when our public services fail to support older people properly in the community. Too often, people go from their home into hospital and then into a care home while their health declines along the way. This can be avoided but we urgently need to improve our approach and attitudes towards intermediate care."