Improving the mental wellbeing of older people can benefit families and communities as well as reducing or avoiding the need for health and social care, according to new guidance from NICE.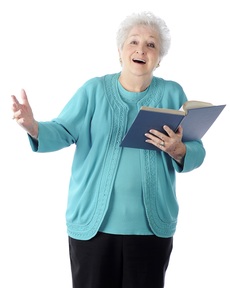 Health watchdog, the National Institute for Health and Care Excellence, has published recommendations on supporting older people's mental wellbeing and independence. These are primarily aimed at local authorities (including those commissioning services), managers, and practitioners with public health as part of their remit.
These include a number of initiatives such as singing groups, in particular, those involving a professionally led community choir plus arts and crafts and other creative activities.
NICE also recommends tailored, community based physical activity programmes including walking schemes and also intergenerational activities involving; for example, older people helping with reading in schools or young people providing older people with support to use new technologies.
Training in helping older people use ICT such as mobile telephones, internet enabled TVs and computers would also be of benefit, according to the watchdog.
Ageing affects everyone differently
Professor Gillian Leng, deputy chief executive and director of health and social care at NICE, said: "Ageing affects everyone differently. There are many factors which contribute to someone's ability to remain independent, avoid loneliness and maintain their mental wellbeing.
"This new guideline includes advice on putting this into practice, for example by looking at what is already in local areas and how it can be improved – are there any transport difficulties, do the older people know there are activities and services available? There is no one-size-fits-all approach to promote and protect the mental wellbeing and independence of older people."
NICE said that older people also need to be offered the chance to take part in one to one activities, such as peer volunteer home visiting programmes, programmes to learn about how to make and sustain friendships or befriending programmes based in places of worship.
Befriending opportunities
They also need to be given befriending opportunities that involve brief visits, telephone calls or the use of other media and information on national or local services offering support and advice by telephone and other media. Older people should also be made aware of the value and benefits of volunteering and given support to do so.
Older people seen as being most at risk of poor mental health are carers, those who live alone and have little opportunity to socialise, those who have recently separated or divorced and those who have recently retired (particularly if involuntary).
Also people who were unemployed in later life, have a low income, have recently experienced or developed a health problem (whether or not it led to admission to hospital), have had to give up driving, have an age related disability or are aged 80 or older.
Alan Maryon-Davis, honorary professor of public health at King's College, London and chair of the committee which developed the guideline, said: "Independence and mental wellbeing are hugely important in maintaining a sense of self, especially in our later years. This new NICE guideline sets out clear ways for the NHS, local authorities, and the voluntary sector to help people aged 65 and older maintain their independence and mental wellbeing for as long as possible."
Loneliness is a 'serious public health issue'
Dr Kellie Payne, learning and research manager at the Campaign to End Loneliness, added that it is "encouraging to see that NICE now recognises loneliness as a serious public health issue, which has an impact on mortality, and physical and mental health in later life."
She added: "This is a complex issue, which demands a strategic approach to ensure barriers to making connections are tackled and the interventions to reduce loneliness are effective. We support NICE in setting out this guidance, which echoes the Campaign's recommendations for adult social care, clinical commissioning groups and public health teams."
Many older people are already involved in activities which maintain or improve their independence and mental wellbeing, with around a quarter of volunteers in the UK being over aged 60 or older.
However, figures from the Campaign to End Loneliness show that between five and 16 per cent of people over 65 say they are often or always lonely. The Mental Health Foundation estimates that depression affects 20 per cent of adults aged over 65 living in the community.
The new guideline is available at: http://www.nice.org.uk/guidance/NG32