Seasonal flu is 'circulating' warns Public Health England
08-Jan-16
Article By:
Melissa McAlees, News Editor
The latest information from Public Health England (PHE) indicates that flu is currently circulating in communities across England, with an increase in influenza confirmed hospitalisations.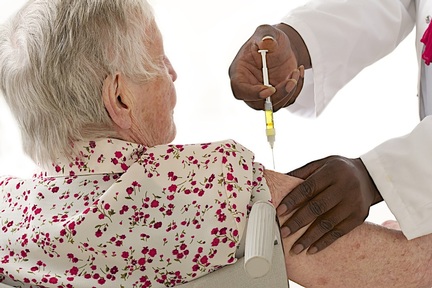 The chief medical officer for PHE has advised the use of antiviral drugs for the treatment of flu, as the viruses characterised so far this season are well-matched to the vaccine strain.
Dr Richard Pebody, flu expert for PHE said: "For most people influenza infection is just a nasty experience, but for some it can lead to illnesses that are more serious, including bronchitis and secondary bacterial pneumonia, which can be life threatening.
"It's not too late for people in 'at risk' groups to get the vaccine for free, and this remains important now that flu is circulating. This includes people with underlying health conditions, even those that are well managed, such as asthma, diabetes, heart, lung, liver or renal diseases, those with weakened immune systems, as well as older people."
He added: "Anyone in these groups who hasn't yet had the vaccine should contact their GP or pharmacist, as they are at much greater risk of becoming seriously unwell if they catch flu, and sadly many end up in hospital.
"Remember that maintaining good cough and hand hygiene can help prevent the spread of germs and reduce the risk of transmission for flu. This includes covering your nose and mouth with a tissue when you cough and sneeze, disposing of the tissue and cleaning your hands as soon you can."
Virus surveillance from the UK and Europe has revealed that strain A(H1N1)pdm09 is currently the main seasonal flu virus.
Previous flu seasons dominated by A(H1N1)pdm09 suggest this strain particularly affects adults with long-term conditions, including: chronic heart disease, liver disease, neurological disease and respiratory disease.
According to the World Health Organisation (WHO) seasonal influenza is characterised by a sudden onset of high fever, cough (usually dry), headache, muscle and joint pain, severe malaise (feeling unwell), sore throat and runny nose.
Most infected people recover within one-to-two weeks without requiring medical treatment. However, in older people and those with other serious medical conditions, infection can lead to severe complications of the underlying condition, pneumonia and possible death.
The Department of Health has issued guidance on the use of antiviral drugs in primary care for individuals presenting flu-like symptoms. The guidance is aimed at those who are at higher risk of developing complications from flu.
Antivirals are recommended by a number of organisations for the treatment and prophylaxis of influenza, including: The National Institute for Health and Care Excellence (NICE), the World Health Organisation (WHO) and European Centre for Disease Prevention and Cure (ECDC).
For more information on the symptoms and treatment of flu visit: http://www.nhs.uk/conditions/flu/Pages/Introduction.aspx