Elderly face losing free TV licence
25-Jan-16
Article By:
Angeline Albert, News Editor
People aged 75 and over may have to give up their free TV licence or make a voluntary contribution to it, the BBC has said.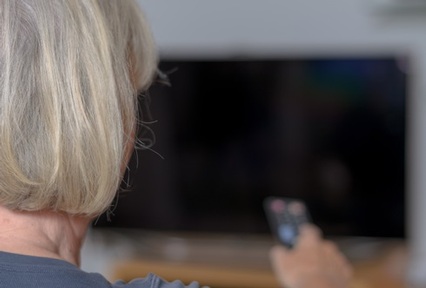 The BBC is considering the move, following its agreement to pay the £650m cost of free licences for those aged 75 and over from 2020; a financial burden that was previously born by the Government.
The broadcasting corporation said the new deal it made with the Government will see its payment of TV licences for the over 74s phased in from 2018-19.
A TV licence is not currently needed to 'catch-up' on television programmes in BBC iPlayer but new rules on paying for catch up services such as iPlayer maybe introduced and the licence fee will rise with inflation.
More than half (51 per cent) of all people aged 75 and over live alone according to 2010 figures from the Office of National Statistics, and two fifths of all older people (about 3.9m) admit television is their main company (Age UK, 2014).
For those who are not able to leave their home unaided or have few family and friends visiting, television can provide entertainment and comfort. Researchers have described heavy media use as a substitution or a means of compensation for financial, social and physical losses people experience as they age.
Research into the relationship between older people and television has found television viewing increases after age of fifty.
Older people who experience problems with seeing or hearing find television easier to deal with, since it provides verbal and visual information together. This results in them turning to TV when their sensory loss makes it difficult for them to continue accessing radio or print.
The prospect of paying towards the cost of a licence is a financial burden that older people may try to do without. Previous reports of older people switching off their heating to save money could be followed by them switching off their television because of worries about the cost.
A standard colour TV licence costs £145.50. Currently a TV licence is needed for those who use a TV, set-top box, computer, tablet, mobile phone or any other television receiving device to watch or record TV programmes at the same time as they are broadcast.
Britain's pensioner organisation, the National Pensioners Convention (NPC) has criticised reports that the BBC is considering reneging on its responsibility to provide a free TV licence to the over 74s.
Dot Gibson, NPC general secretary said: "The minute the Chancellor announced passing responsibility for the free TV licence over to the BBC, we knew its future would be in danger.
"It has been a cynical move by Government to outsource part of its wider welfare policy to an unelected body – and then wash its hands of the consequences.
"In any functioning democracy, people need access to information and entertainment. One of the reasons we have the free TV licence in the first place is because our state pension remains one the lowest in the developed world.
"What's worrying is if the BBC starts to use famous and wealthy older celebrities from licence fee payers money to try and persuade ordinary pensioners to give up their TV licence. Many older, vulnerable people might be taken in by this when they should be protected.
Dot Gibson added: "The Government needs to take back responsibility for the free TV licence or we're going to see it cut by stealth and then eventually removed altogether. In effect the Chancellor has managed to privatise government cuts at the expense of Britain's older generation."
The BBC said funding free licence fees for those aged over 74, cost the Government £608m in 2013-14 -about 20 per cent of the corporation's budget.