GPs have voted to end their responsibility for visits to care homes and house calls, arguing they 'have not got the time, the workforce or the flexibility' to fit them into their day.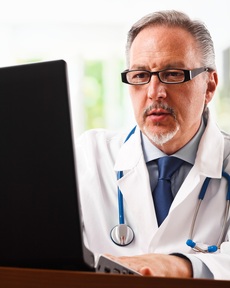 At Saturday's LMC conference 2016 in London, GPs from Local Medical Committees (LMC) across the UK voted to have 'separate contractual arrangements' for residents in care homes, nursing homes and people sick at home.
The separate arrangements could enable GPs to subcontract services to private firms or do it themselves for more money, if they have the resources.
Doctor's diagnosis
Dr Stefan Kuetter, the GP who proposed the motion for separate arrangements for care homes, nursing homes and home visits, told attendees: "I'm not proposing that we completely get rid of home visits. What I'm proposing is we look at who is best placed to do this.
"It does not fit into your busy day. It derails everything you had planned that day."
The GP from Marlow said: "Let's be honest you hate visits. It's not because you don't want to do them, you love looking after your elderly patients. It's because you simply have not got the time, the workforce or the flexibility.
"To cut down on these unplanned visit requests from care homes, surgeries send a GP for a whole weekly session to the care home to run ward runs.
"This kind of luxury is not funded appropriately and the time spent for residents in care homes is disproportionately higher than the time we spend with other patients of the same age in the community. It's not fair.
"Let care homes provide medical care for their residents, not GPs. Let the NHS create home visiting schemes and appropriate transport schemes, not GPs".
Dr Paul Roblin, chief executive of the LMC in Berkshire, Oxfordshire and Buckinghamshire, said a structural contractual arrangement for the whole population of care home residents is needed with specific providers meeting their needs.
Dr Roblin said: "If you have a stressful, structured day with no gaps, home visits are phenomenally disruptive. A GP may still become a provider if they have the capacity and resources to do it."
Following the weekend vote, the LMC, a statutory body representing GP practices, will talk with the BMA General Practitioners Committee (GPC) which represents all GPs in the UK, in the hope this will lead to a 'care home/home visit' clause being introduced by the Government into GPs contracts.
The Government plans to announce a new contract for GPs by the end of February.
The majority of GPs do not currently charge for visits to care homes and nursing homes. Of those that do, the fees can vary widely.
Critics of a 'care home/home visit' get out clause, argue that the cost of paying for private doctors to visit care homes will push up prices for residents.
Care sector response
Professor Martin Green, chief executive of Care England, which represents independent social care providers, said: "Residents of care homes should not be treated any differently from those living in their own homes; a care home is their home.
"GPs are a vital part of the fabric of the care package for any care home and it is impossible to imagine residents receiving the care and attention that they require without full access to primary care.
"In the past we have talked about the unfair practice of care homes being charged fees for core services.
"Residents of care homes have several comorbidities and we have moved people out of acute hospitals but not moved the resources needed to support them properly. In some areas local authorities are paying £2.31 an hour for high level dependency care, clearly this is not sustainable".
Some have also argued a 'carehome/home visit' contractual clause will lead to visits from doctors who are 'not familiar' faces.
Age UK's charity director, Caroline Abrahams, said: "Older people in care homes are just as entitled as anyone else to good NHS treatment and because many residents are frail and unwell, continuity of care from a GP whom they get to know is often especially important.
"We know that many GP practices are under a lot of pressure but stopping care home visits should not be an option in a caring society.
"We would be very concerned at any move which hived off healthcare in care homes into a separate category and which led to more fragmented GP care for residents from an ever changing cast of characters."
David Oliver, president of the British Geriatrics Society (BGS), a professional association of doctors, nurses and therapists focused on geriatric health said: "We would oppose removing a duty of care for care home residents from the GMS contract without first putting in place robust alternative arrangements to ensure that no resident is denied access to proactive and responsive primary and community health care services.
"There are over 400,000 people living in nursing and residential homes in the UK. They generally have very complex health and care needs, which require skilled support not just from doctors, but from a range of other health and care professionals.
"We call on the BMA and GPs to ensure that, in protecting the future sustainability of their services, they do not classify care home residents as anything less than full members of society, with the same healthcare entitlements as the rest of us."