Meal Makers project receives Government funding to combat malnutrition and social isolation
11-Feb-16
Article By:
Melissa McAlees, News Editor
The Scottish Government has promised a six-figure fund to help combat loneliness and social isolation across Scotland.
Social Justice Secretary Alex Neil has announced a £548,000 cash injection aimed at making life more enjoyable for some of the country's most vulnerable older people.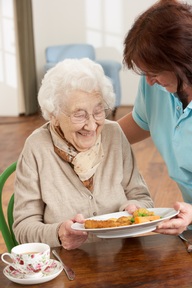 A host of voluntary groups will benefit from the launch of the national Social Isolation and Loneliness Fund. These include local food delivery group, Meal Makers, a new project which aims to break down barriers that lead to loneliness.
The MSP revealed he became inspired to help charities like Meal Makers after learning the true extent of loneliness and isolation across Scotland. He said: "Social isolation can damage a person's sense of belonging, empowerment and contribution to society. We are committed to tackling this, and I'm delighted today to be announcing more than half a million pounds in funding in order to help do this.
"Loneliness and isolation is widespread, across all levels and ages of society, and there are no easy answers. We know there is a link between loneliness and poor physical and mental health, and impacts on everyday life. However, it is clear there is much positive work going on, and this funding will not only enable this to continue, but the new fund will allow further work to be done.
"Meal Makers is an excellent example of an innovative project to get people more involved in their communities, and is making a huge difference to the lives of those involved."
Around one million people aged over 65 are thought to be lonely, and these feelings of loneliness are linked to poor health, including: depression, high blood pressure, a weakened immune system and an increased risk of developing dementia.
The funding was announced by Mr Neil while visiting the home of Patrick Etchels, a recipient of Meal Makers. The voluntary project will receive a £50k boost to extend their service to other parts of the country. It encourages volunteers to cook an extra meal which can be given to an older person living nearby, who may be at risk of isolation.
Meal Makers tackle social isolation and the growing problem of malnutrition by helping older adults, who no longer find it easy to cook for themselves, to enjoy fresh, home cooked food.
The project also aims to strengthen connections within communities and provide a flexible way for people to volunteer their time and skills in a way that suits them.
Volunteers are matched up with an older person who lives nearby and weekly/fortnightly/monthly visits are arranged so that meals can be shared together.
Michelle McCrindle, chief executive officer of Food Train, a voluntary food delivery service which also runs Meal Makers, added: "For the last 20 years Food Train has been devoted to improving the lives of older people via food shopping access and social contact.
"Meal Makers is something simple and easy that harnesses the fantastic human kindness of Scot's who want to share their brilliant home cooking with a neighbour in need, and helps us provide ever more support to older people living at home.
"By funding our project, the Scottish Government is trailblazing across the UK, supporting a nation-wide digital initiative aimed at reducing both malnutrition and social isolation together. Meal Makers really does help older people to eat better and feel better."
Meal Makers are encouraging people to 'do something great with an extra plate'. Sign up to cook and be connected with an older neighbour (Diner) who would really appreciate some home cooked food.
For more information on Meal Makers, visit: https://www.mealmakers.org.uk/#howItWorks