Residential care and home care are often thought to be the only two options available to people needing long-term care. However there is a third option that is rarely talked about – live-in care which is becoming increasingly popular.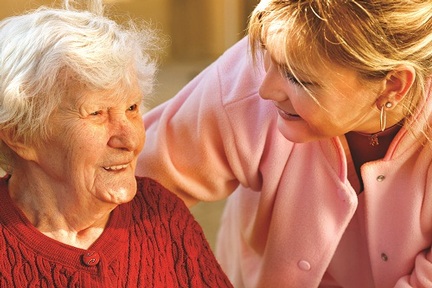 Scott Walker, business manager at The Care Agency offering live-in care, believes this option tends to be ignored as people assume live-in care is extremely expensive when he says in reality the costs can be comparable to a care home. It is particularly cost efficient for couples.
He claims it combines "the best elements of both domiciliary care and care homes. Domiciliary care and live-in care enable people to stay within their own home, however only live-in care enables the person to maintain their independence by helping them enjoy activities they can no longer do alone".
Loneliness is a huge problem for older people. Around one million people aged over 65 are thought to be lonely, with studies finding loneliness can cause more damage to a person's health than smoking 15 cigarettes a day and increases the chances of getting dementia by 64 per cent.
Live-in care prevents loneliness
Live-in care tackles this problem with live-in care workers residing in the person's home for two weeks at a time.
"Moving into a care home definitely addresses the issue of loneliness, however the major advantage to live-in care is that with no need to move, clients can continue to live in their own home close to their friends and family and in familiar surroundings, at a stage in life when one appreciates familiarity and routine this can be invaluable. Moving someone into a care home can be very disruptive to a person at a sensitive time in their life," says Mr Walker.
The Care Agency, which operates a nationwide service, currently has around 300 live-in care workers and around a hundred people it cares for. "Our carers tend to work two weeks on and two weeks off. They are self-employed and they are paid for by the clients. Our main job is to match the client up with the carer according to their skills, experience, hobbies and interests.
"We have been providing live-in care since 1990 and we have found it is definitely growing in popularity. You don't need to move out of your home and people like to be able to stay in their own community and carry on with their hobbies and interests.
"The care is one to one and the carer is given a food allowance at the client's home. The carer will usually cook the meals and eat with the client."
Strong bonds are formed
Live-in care workers tend to be women in their mid-fifties. "Our clients don't really like to have a massive age gap and prefer someone closer in age to them. This helps them to build a relationship as they are more likely to have things in common," explains Mr Walker.
"All of our carers have an in depth interview when they come and work for us. We will do the same with the clients so we really know them and it helps the matching up process."
Dorothy Dash has worked for The Care Agency for nearly 20 years and during that time she has mostly worked with long term clients on a static rota of two weeks on and two weeks off.
She believes "establishing relationships with clients is really important, and by being with the same person long-term it allows us to get to know one another both personally and on a professional level.
"I have been supporting my current client for almost four years. At the beginning my colleague and I were caring for a husband and wife but sadly our lady passed away. We were able to support her husband through a difficult time and offer the comfort of keeping to his familiar routine, where that was possible.
"Believe it or not, I have the honour of being the longest serving carer with the agency. I've contemplated retiring a few times, but as long as the agency and my client need me, I'll carry on."