Thousands of blind and partially sighted older people living with unmet care needs
11-Mar-16
Article By:
Melissa McAlees, News Editor
Almost 12,500 blind and partially sighted older people are not receiving any care support, becoming the latest 'casualties' of the social care crisis, according to new research.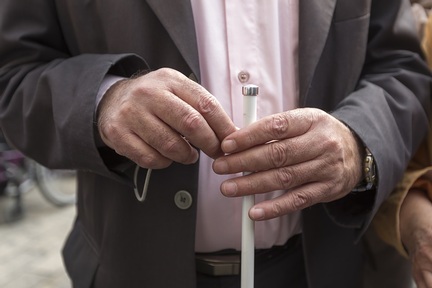 Age UK and the Royal National Institute of Blind People's (RNIB)'s report, titled 'Improving later life for people with sight loss,' has revealed a 36 per cent reduction in the number of blind or partially sighted over-65s receiving vital social care services to help with everyday essential, daily living tasks between 2008 and 2013.
Fazilet Hadi, director of engagement at RNIB, said: "Social care support can be vital to blind and partially sighted people in later life, enabling them to live with dignity and choice. However, older people with sight loss are increasingly missing out on social care and vision rehabilitation services.
"Being left alone to cope with sight loss in later life is wholly unacceptable. No matter how tight Government budgets are, this is essential support which must be provided."
The charities have warned that unmet care needs to older people with sight loss is likely to increase, as 50 per cent of registered blind and partially sighted older people currently live alone.
The findings have also revealed that older people with sight loss have been disproportionately affected by the loss of community based services due to funding cuts.
The report claims that this unmet need has had considerable consequences for the wider health and well-being of older blind and partially sighted people, and for their independence.
According to Age UK, older people with sight loss are more likely to have multiple health conditions, to be on a low income and to live in poor quality housing.
Similarly, those with sight loss are also twice as likely to fall as their sighted peers and have a higher risk of injury.
Each year, more than two million older people aged 65 and over have a fall and an estimated 87,790 falls each year are attributed to older people with sight loss. Almost 17 per cent of these individuals require hospital admission, resulting in higher costs to the NHS.
Caroline Abrahams, charity director at Age UK said: "That so many blind or partially sighted older people who need social care aren't getting is profoundly shocking.
"Losing our sight is something many of us fear the most, and the idea of struggling alone without social care assistance in such circumstances seems appalling in a civilised society."
At present, one in five people aged 75 and over are living with sight loss. RNIB predicts that by 2020 the number of people living with sight loss will rise to over two million.
For more information visit: http://www.rnib.org.uk/