When Chancellor George Osborne finished delivering his eighth Budget, the collective sigh of care home providers across the UK was heard, as he failed to address the 'social care' elephant in the room.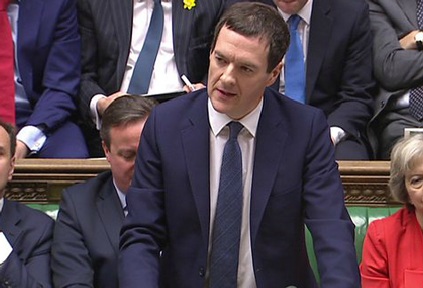 Local authorities, older people's charities and Care England, which represents care home providers throughout the UK had lent their voices to the call for more funding to plug the gaping hole in adult social care budgets but their pleas fell on deaf ears.
Councils, represented by the Local Government Association (LGA) had called for the Chancellor to bring forward to this year £700m of the extra £1.5bn funding Osborne had promised in November's Spending Review.
The £1.5bn funding pot for the Better Care Fund (BCF) is earmarked for use by 2019/20 but requests to make it available now went ignored.
The BCF has a local, single, pooled budget to incentivise the NHS and local government to work closely together to meet the health and social care needs of individuals. In November's Spending Review, the Chancellor had announced the Government will increase the BCF by 1.9 per cent, giving local authorities access to an extra £1.5bn by 2020.
In its January Budget 2016 submission document, the LGA warned: 'Adult social care is already on an unstable foundation. Over the course of 2010-2015, the service had to close a funding gap of £5bn, half of which came from savings and service reductions from within care and support.
"The additional £1.5bn will not be available in full until 2019/20. The positive impact of being able to increase the council tax charge [by an extra two per cent a year for social care as announced in November's Spending Review] will not materialise in full until 2019/20, even if councils use the flexibility in full each year."
£4.3bn black hole
Janet Morrison, chief executive of older people's charity Independent Age, said: "The elephant in the room during this Budget was the massive black hole in health and social care funding.
"The silence at the dispatch box on these issues was deafening.
"While NHS trusts are £2.3bn in deficit and there is a £4.3bn black hole in social care budgets by 2020, Westminster has yet again failed to provide any answers on how these will shortfalls will be met.
"It is clear that the usual Westminster party politics is failing to tackle these crucial challenges. That is why we support a cross-party, independent commission on the future of health and social care in this country."
Help for veterans needing social care
One silver lining in an otherwise grey financial cloud, was seen by veterans who will be able to keep payments from war pensions rather than use this money to pay for social care. This means injured and wounded veterans will no longer be forced to use compensation payments to fund their own care. Effective from April 2017, 4,000 armed forces veterans can keep payments from their war pensions if they need social care.
The disabled
The Chancellor is aiming for an extra £3.5bn of savings in 2019-20 and this will partly come from cuts to benefits for the disabled.
David Martin, director of external affairs at disability charity the Papworth Trust, said: "Starving the social care system of money, risks its very survival. We must never forget that behind every statistic and arbitrary figure are people whose lives are deeply affected by the limitations of the current system.
"Over 900,000 people in England currently have unmet social care needs either because the eligibility criteria was changed, or because there isn't enough money to provide them with support to get out of bed or to wash, dress and feed themselves."
'Perfect Storm'
Dr Rhidian Hughes, chief executive of the Voluntary Organisations Disability Group, said: "We have reached a perfect storm. Demand is rising. Unmet need is rising. Welfare reforms and cuts to services are leaving fewer and fewer people eligible for essential care and support services.
"Yet the Chancellor's Budget statement said nothing about these pressing matters. The absence of social care was an obvious and concerning void in today's Budget".
National Living Wage
With the National Living Wage set to come into effect from April 1, the extra costs of setting a wage floor of £7.20 an hour for people aged over 25, which is expected to rise to more than £9 an hour by 2020, is expected to have a substantial effect on care providers; those serving a publicly-funded residents who will need councils to cover the increased costs.
The LGA says that the additional annual cost for council adults' social services departments will rise to £1bn by 2020.
The LGA says inflation and demographic pressures of an increasing and aging population will add £2.1bn to council's annual social care costs.
'False economy'
LGA chairman Lord Porter said: "Councils have more than played their part in trying to balance the nation's books in recent years and all councils will have to continue to find substantial savings from local services to plug funding gaps over the next four years.
"Extra council tax powers and transitional funding will help some but won't be enough to completely offset the full impact of funding pressures.
"Pumping money into the NHS while councils receive less social care and public health funding is a false economy. A properly funded social care system is essential to alleviate the pressure on the NHS."
In the hour preceding the Budget, Care England's chief executive Martin Green told carehome.co.uk "I want to see the Chancellor deliver the CSR settlement with immediate effect. It means bringing forward the BCF settlement and seeing the extra precept monies in the settlements that should take effect from April 1st."
After listening to the Budget speech, Martin Green said: "We commend the Chancellor for looking to the long term in aspects of his Budget but it is dangerous for him to ignore social care.
"The care sector employs more people than the Red Army and when the National Living Wage begins to bite it is all the more important that the sector is recognised, resourced and supported.
"More cuts to local authorities' budgets only leaves those in receipt of care in a more fragile position, one that providers are no longer able to support".
With the Chancellor ending his Budget speech with the words: "a Budget that puts the next generation first", the question remains where this leaves the oldest generation.