Hospital patients are being sent home alone, afraid and unable to cope and in some cases without their relatives or carers being told, according to a report compiled by the Parliamentary and Health Service Ombudsman.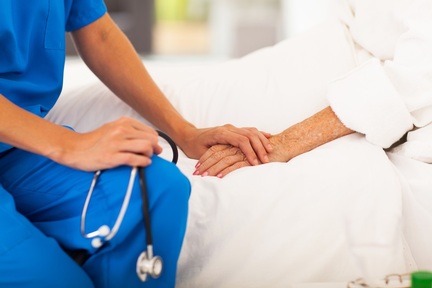 The report highlights cases investigated by the Ombudsman service where people have been discharged from hospital before they are fit to leave or without making sure they can cope on their return home.
Responding to the report, Janet Morrison, chief executive of Independent Age, said: "The individual cases highlighted by this report are tragic in their own right, but they are also a sign of a health service under severe strain. Higher bed occupancy rates means there is a greater pressure to get people out of the system quicker. And ever growing demand is increasing the pressure on already stretched hospitals.
"It can't be right that older and frail patients are being discharged without the correct care and support in place. We need to make sure our health and social care services are properly funded and integrated in the first place. Our duty of care to older people cannot begin and end at the hospital doors."
Duty of care
Last year the Parliamentary and Health Service Ombudsman found a 36 per cent increase in discharge related investigations. They found that deaths or suffering could have been prevented if hospitals carried out the right checks before discharging individuals.
The report of investigations into unsafe discharge from hospital outlines four main issues:
• Patients are discharged before they are clinically ready to leave hospital;
• Patients are not assessed or consulted properly before their discharge;
• Relatives and carers are not told that their loved one has been discharged;
• Patients are discharged with no home-care plan in place or being kept in hospital due to poor co-ordination across services.
Friends and family who have complained about their loved ones' treatment told the Ombudsman service of the impact of their experiences.
One complaint to the Ombudsman was from a family whose mother had been left in her home without food, drink or bedding, unable to care for herself or get to the toilet.
Another woman said she would be 'haunted for the rest of her life' by her mother's avoidable suffering just before she passed away. Her 80-year-old mother, who had Parkinson's disease and dementia, had been re-admitted to hospital several times after being repeatedly sent home where she was unable to cope.
Vulnerable patients
Parliamentary and Health Service Ombudsman, Julie Mellor, said: "Our investigations have found that some of the most vulnerable patients, including frail and older people, are enduring harrowing ordeals when they leave hospital.
"Poor planning, coordination and communication between hospital staff and between health and social care services are failing patients, compromising their safety and dignity.
"Health and social care leaders must work harder to uncover why ten years of guidance to prevent unsafe discharge is not being followed, causing misery and distress for patients, families and carers."
Best practice guidance has stated that 'discharge is a process and not an isolated event at the end of the patient's stay'. The key steps and principles identified to enable appropriate discharge include:
• Starting discharge and transfer planning before or on admission to hospital, to anticipate problems, to put appropriate support in place and agree an expected discharge date; • Involving patients and carers in all stages of the planning, providing good information and helping them to make care planning decisions and choices;
• Effective team working within and between health and social care services to manage all aspects of the discharge process, including assessments for social care, continuing health care and, where necessary, assessments of mental capacity;
• Community-based health and social care practitioners should maintain contact with the person after they are discharged and make sure the person knows how to contact them when they need to.
Person-centred care
Guidelines published by the National Institute for Health and Care Excellence (NICE) in December 2015, on transition from inpatient hospital settings for adults with social care needs, also recommend that a single health or social care professional should be made responsible for co-ordinating a person's discharge.
Professor Gillian Leng, deputy chief executive and director of health and social care at (NICE), added: "This report by the Parliamentary and Health Service Ombudsman brings to light serious concerns and gaps in care where patients are being sent home under inappropriate and poor circumstances.
"It is these potential gaps in care that our social care guidance, 'Transition between inpatient hospital settings and community or care home settings for adults with social care needs', aims to address.
"It's more important than ever to ensure person-centred care when someone is admitted to hospital, with health and social care practitioners' working together from the time that the patient is admitted, and even before that if possible.
"This report highlights the importance of putting our guidance into practice, so we are working with leaders in health and social care to ensure that cases like those highlighted don't happen again. We are also are producing a quality standard (QS) on transitions for adults with social care needs that focuses on particular areas of improvement. When put in to practice, this should ensure that patients, their families and carers are able to cope when they are discharged from hospital."
Caroline Abrahams, charity director at Age UK said:"Good practice is about much more than just money but it is surely no coincidence that the position is getting worse at a time when the NHS is under appalling financial pressure and the social care system is falling apart at the seams.
"We cannot go on like this. The Government needs to get a grip and arrest the process of decline, and if that means re-opening the Spending Review and investing substantially more in the NHS and in social care then that's what they should do, and quickly."
For more information visit: http://www.ombudsman.org.uk/reports-and-consultations