More than half of those living in the UK feel more comfortable talking about their own death or that of people close to them than they did five years ago, yet are failing to get their 'affairs in order', according to research compiled by ComRes on behalf of the annual Dying Matters Awareness Week (May 9-15).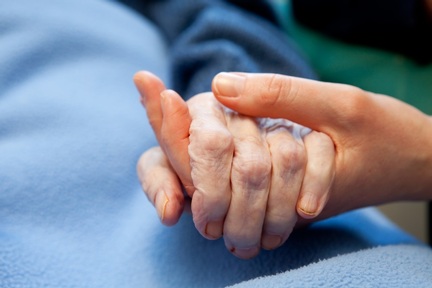 The Dying Matters Coalition and the National Council for Palliative Care have encouraged people to put end-of-life plans in place after it was revealed that only a third of people across the UK had made a will and arranged advanced care plans.
Claire Henry, chief executive of the National Council for Palliative Care and Dying Matters Coalition, said: "There is a lot of good news in this survey, along with some things that cause concern. It is good to see that so many people not only feel comfortable talking about death, but also that so many feel increasingly comfortable over time.
"It's encouraging that so many people would be willing to help someone else make end-of-life plans, and that so many feel they have someone they could go to for help.
"But it is concerning that this talk is not resulting in more action to get our plans and affairs in order. Talking about death is nothing to be scared of, and won't make it happen. We all need to start to have this 'Big Conversation' as part of the way we plan and prepare for all the important things in life. We need to talk to our loved ones about what we want, sort our plans out, write them down and make sure people know where to find them.
"Putting our end-of-life plans in place enables us to get on with living. It takes a weight off our minds, and makes things easier for those we love as well."
Although people are becoming increasingly comfortable with talking about death, research suggests this is not translating into action.
Of the 2,000 people polled, only 35 per cent said they had made a will, the same as in 2015, and under 30 per cent of men and women have discussed their end of life wishes with someone.
Most notably, only seven per cent of people have written down their wishes for their future care.
A second recent report titled 'Losing a partner – the financial and practical consequences', commissioned by Royal London, reported the views of 500 people who had experienced bereavement in the last five years.
The research found that seven in ten people who lost a partner were financially or unprepared for the loss and one in six did not know what to do about the funeral and found it challenging to look after the house following their death.
Steve Webb, director of policy at Royal London, said: "The first hand experiences of bereaved families make powerful reading. Whilst nothing can prepare you for the loss of a loved one, families who have experienced a loss are clear that there are things they wish they had done to ease the practical and financial consequences of bereavement. There are steps that we can all take now that would make life easier for our loved ones after we have gone."
To mark Dying Matters Awareness Week, Later life experts SunLife have partnered with the charity Dying Matters to launch My Perfect Send Off, a free tool to record funeral wishes.
Ms Henry added: "Talking about dying doesn't make it happen, and we all need to get better at discussing our end of life plans, including our funeral plans. It gives us peace of mind to know we've made and shared our plans, and it makes life easier for our loved ones to know they are giving us the perfect send-off we want. We're delighted to be working with SunLife of their new send-off tool, and hope that people find it a really useful resource."
The free online tool gently prompts people to talk about their funeral wishes by asking them questions such as 'would you prefer to be buried, cremated or donate your body to science?' and 'Would you like a dress code at your service?' The responses create a valuable document which can be kept with their will or sent to a loved one.
Graham Jones, director at SunLife said: "In response to our own figures and Dying Matters' research we are launching My Perfect Send Off to help people start that all important big conversation."
"Death should not be a taboo subject. It eventually comes to us all, and when it does, if your loved ones are unprepared, it can cause a great deal of stress, both financially and emotionally at what is already a very difficult time. By asking some simple questions about funeral preferences, we think My Perfect Send-Off Tool offers a nice, easy way to start the #bigconversation. And, for those who would still prefer not to discuss it face to face, it provides a private and secure way of recording your wishes."
For more information, visit: http://www.dyingmatters.org/ or www.myperfectsendoff.co.uk.