Memory cafés provide an important facility for thousands of people living with dementia across the UK. Often run by volunteers, they can cater for any number of people living with dementia, including those with different stages of dementia, their carers, friends and family members.
Penryn Memory Café in Cornwall is one of the hundreds of memory cafés already in operation across the UK and has become the subject of Falmouth University student, Hannah Wright's latest project 'It's nice to know you'.

Hannah is in her final year studying Press and Editorial Photography at the university and began volunteering and photographing at the memory café in early October 2015 after previously spending some time volunteering at the nearby Falmouth Memory Café where she met some regular café visitors.
Aside from allowing Hannah to meet a range of people including volunteers and those living with and caring for people with dementia, the project has culminated in an exhibition of portraits of memory café participants. The exhibition was held at Temperance Hall, Penryn, the venue where the café takes place, with the aim of giving each visitor the chance to experience what it's like to attend a memory café.
'Fascinating and devastating'
Speaking about what inspired her to start the project, Hannah said: "In my first year of university, I met a lady through a dementia organisation and I have been visiting and chatting with her almost every week for the last three years, so in itself, this is a personal project about our relationship.
"Our regular conversations are what peaked my interest and I became very attached to this topic and work by other photographers around this subject. In June 2015, I decided to start looking at how dementia affects different people and began volunteering with Falmouth Memory Café and the project evolved from there.
"Although my personal experience of dementia was originally with the lady who I am now good friends with, within the last year while I have been working on this project my great auntie and grandma have both been diagnosed with dementia and have declined rapidly. This has informed my work as I have seen the effect it has had on my dad whilst also being able to help him with regards to information on how to be around someone with dementia."
Ellie Robinson Carter helped to establish the Penryn Memory Café and coordinates each session. Speaking as part of the project, she said: "I love it. It's a really wonderful opportunity to meet new people, see old faces and do something different each week. I always leave feeling lighter and with a big smile on my face."
Penryn Memory Café happens every first and third Thursday of the month, lasting for two hours with a tea break in the middle. Attended by approximately eight people each session, many of whom have dementia, the café is also open to volunteers, carers, and family members making the average number people in attendance 15 each week.
Spending time at the Falmouth Memory Café allowed Hannah to have unique access to help her both understand her subjects and build relationships with them when she began to photograph at the nearby Penryn Memory Café in the following months as many people were attending both.
'Happy and uplifting'
Christine is one of the many regular visitors to the memory café, attending with her husband Jeff who has dementia. She said: "I enjoy the memory café as I can relax amongst friends who understand Jeff's needs. There is a wide range of activities and there is a lot of laughter as Jeff is always happy and uplifting both during and after the activities. While great homemade cakes are always served – Jeff enjoys the cakes!"
Hannah said: "I started the project because of my previous involvement with dementia but also because dementia is fascinating even though extremely devastating. You could never imagine what it would be like to not be able to remember what year you are living in or not be able to get your words out or speak to people.
"I felt that I already knew quite a lot about dementia so I wouldn't say there was anything surprising, however, seeing certain members of the group decline is difficult and that can be surprising. Within two weeks a lot can happen and the decline can sometimes be dramatic which is sad but part of being in the memory café."

Memory café participants get the chance to enjoy an activity in the first half of each session, which can including singing, music or arts and crafts before enjoying a tea and cake break. Then for the remainder of the time they can spend time with Hannah to produce a life story book as part of the project.
She commented: "I really wanted to create life story books with people who attend the memory café to capture their memories and photographs for them. Then I started looking at ways to share this with people, being in the memory café I found that actually giving others the experience of coming to the memory café and showing how important that space is for everyone involved and what actually goes on within this space would show and explain dementia but in a positive way.
Raising awareness
"Although I felt that I knew lots about this topic and was very much aware of memory cafés, not many do unless you are personally connected to dementia or actively involved. I feel it's really important for the local community to be aware of what's going on around them and also to be aware of people with dementia when they are out and about in the local area."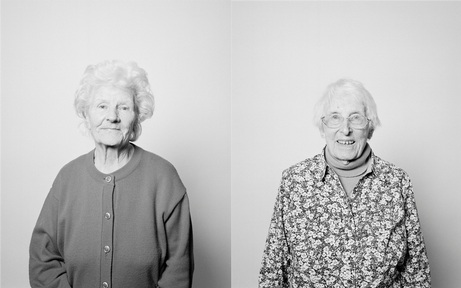 Speaking about her experiences at the Penryn Memory Café, project participant Molly said: "I come here with all the gang. The activities interest me, the café is close is very convenient. I am one of 13 so I enjoy being surrounded by sound. There are eight boys and five girls. Family and friends are important."
Hannah is planning to develop the project further by offering photographic workshops to allow everyone who attends the memory café the opportunity to create their own portraits and photographs of the activities, hopefully to support a second exhibition.
She continued: "Sometimes it's difficult also being a volunteer, especially when creating the series of portraits, but for many of the activities photographed I have been involved or been running them and just have my camera with me at all times. I felt that it is really important to volunteer at the same time and the roles kind of went hand in hand.
"I think that memory cafés are really important for people living with dementia, it's a space where everyone is treated equally we are all aware of dementia itself and are then able to be patient and respectful of everyone's needs. It does very much allow everyone including the volunteers to socialise and have a chat and still feel part of the community, when it can sometimes become isolating for some people who have dementia."
Watch a video below by Ben Perry (www.benperryphotography.co.uk) of the exhibition, 'It's nice to know you' at Temperance Hall, Penryn.
Research suggests that leading a physically active lifestyle can have a positive impact on the well-being of someone with dementia. Penryn Memory Café is just one of many ways that people with dementia and their carers are being supported to remain active in their local communities, allowing them to feel as or more involved than they were before diagnosis.
For more information on Hannah's project, visit: www.hannahwrightphotography.co.uk/its-nice-to-know-you.
To read information on memory cafés and services designed to support people with dementia and their loved ones in your local area, visit: http://dementiaroadmap.info/.