A 40-year-old man from Oxfordshire is inviting people to take part in the Tour of Cambridgeshire for Alzheimer's Research UK, having recently completed a 16,000 mile cycling challenge of his own while living with dementia.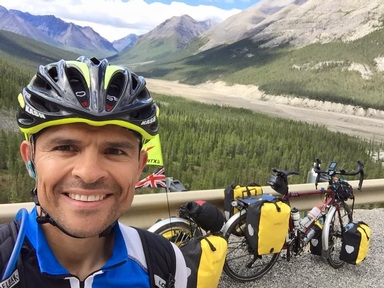 Father-of-three Chris Graham was diagnosed with early-onset Alzheimer's in 2010 at the age of just 34.
Mr Graham wants to encourage others to 'fight' the condition and join him in his latest cycling challenge. He said: "If I can cycle 16,000 miles in temperatures reaching over 50°C, just about anyone can take on the Tour of Cambridgeshire this June.
"Before I was diagnosed with dementia, I decided to plan and complete a big endurance challenge to raise awareness and money for research to help find a cure.
Although I will more than likely not benefit from any future treatment, I want to contribute to finding a cure for people with dementia in the near future, which is why I'm supporting Alzheimer's Research UK.
"Since joining the British Army aged 16 I have been passionate about sport and endurance challenges. I have now left the services due to my dementia diagnosis and last year decided to undertake the trip of a lifetime."
In April 2015, armed with a bike, a sense of humour and some 'Brit Grit', Mr Graham embarked on a 16,000 mile cycling trip around Canada and the American coast. He raised over £40,000 for the UK's leading dementia research charity.
Not one to shy away from a challenge, Mr Graham is currently encouraging others to get on their bikes and take on a challenge of their own: the Tour of Cambridgeshire Gran Fondo. The sportive is taking place on Sunday 5 June.
The race offers a closed-road cycling experience through beautiful rural Cambridgeshire and is suitable for all cyclists, from novice to expert. Participants can choose between two routes at 93km and 129km.
Alzheimer's is a progressive disease and while some symptoms can be similar to those of late-onset Alzheimer's, the disease can also reveal itself in more unusual ways in younger people. This can make it more difficult for individuals, families and doctors to recognise.
Symptoms of early-onset Alzheimer's can include:
• Memory problems which interfere with everyday life;
• Confusion or disorientation;
• Changes in personality and behaviour;
• Language and communication difficulties;
• Visual problems.
Mr Graham carries a rare familial Alzheimer's gene, in which each of his children have a 50 per cent chance of inheriting the disease. There are only around 400 families worldwide who carry the mutated gene that Mr Graham has.
"My friends didn't believe me when I told them I had Alzheimer's disease. At my age, it just doesn't make sense to people. We still think of Alzheimer's as a bit of forgetfulness as we get older, but the truth is far worse.
"No matter how hard a challenge is, it's so worth it when you know you're doing it for an important cause. I would love for as many people as possible to join the Alzheimer's Research UK team and support this fabulous charity.
"I know what will happen to me in the coming years and I want to do something to fight back against the disease. We need to hit the enemy directly, which is why I support dementia research. A cure may come too late for me, but it will help my children," he explained.
Kenneth Foreman, sporting events manager at Alzheimer's Research UK, has shared his delight that Mr Graham is backing the fundraising event.
"The Tour of Cambridgeshire is one of the most exciting cycling sportives in the UK and we'd love to see as many people riding to defeat dementia as possible. There are 44 million people living with dementia across the world, but together we have the power to defeat this devastating condition."
Alzheimer's Research UK influences studies, focusing on diagnosis, prevention and treatments for dementia. The charity also works to improve public understanding of the condition.
For full details about the event and to enter the race, visit www.tourofcambridgeshire.com
To sign up as an Alzheimer's Research UK fundraiser for this event, go to: www.alzheimersresearchuk.org/event/tour-of-cambridgeshire-2016