Yoga enthusiasts and beginners alike are being invited to participate in a new national event launched by Alzheimer's Research UK in order to help raise vital funds for dementia research.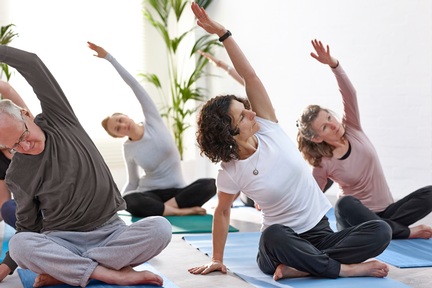 Yoga for Alzheimer's is encouraging people to limber up and learn some new yoga positions while raising money to help find new treatments for dementia, which affects more than 850,000 nationwide.
The initiative will see 14 venues across the UK host Yoga for Alzheimer's events between Sunday 12 June and International Yoga Day on Tuesday 21 June 2016.
Yoga for Alzheimer's organiser Ingrid Stone developed the idea after hosting several yoga events in 2015 to raise money for the charity after her mother Valerie Blumenthal was diagnosed with Posterior Cortical Atrophy (PCA), the same variant of the disease that Alzheimer's Research UK patron and author, Sir Terry Pratchett was affected by.
Promoting strength and flexibility
Speaking about Yoga for Alzheimer's, Ingrid said: "My mother, Valerie Blumenthal was diagnosed with PCA in November 2013. The rare form of the disease attacks the back part of the brain, responsible for visual function, orientation and spatial awareness, rather than immediately causing the memory problems more typically related to Alzheimer's. People with PCA often start off by thinking that they have a problem with their eyesight and may find it difficult to see - my mother experienced problems going down stairs as everything she was seeing had become contorted. It can also severely affect literary skills, which for my mother as a writer has been very upsetting."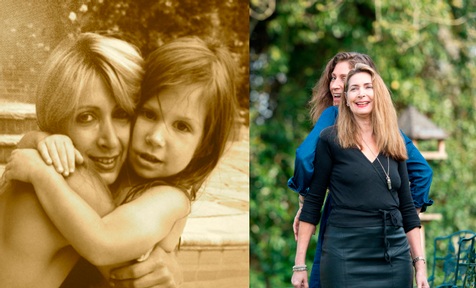 The act of yoga itself is an ancient form of exercise that promotes strength and flexibility, focusing on breathing techniques and can be known to improve physical and mental well-being as well as helping to reduce the feelings of anxiety that can be experienced by people living with dementia.
Practicing yoga can help to improve balance by strengthening the lower body and legs, reducing the risk of falls in older people. Yoga can also be beneficial to those with arthritis by offering a gentle way to increase flexibility and strength.
Ingrid has been practicing yoga for more than 20 years and though not a teacher herself, uses yoga to relieve stress and reduce anxiety.
Unlike other fundraising events, Yoga for Alzheimer's requires no training and allows as many people as possible, from all abilities to take part.
Yoga is a fusion of the body and mind
Ingrid continued: "I wanted to do something. For my mother, for Alzheimer's. I thought about doing some kind of marathon to raise money but I remembered my dodgy knees. And then I thought of what my yoga teacher said at the start of every lesson: 'dedicate your practice to someone or a cause that needs positive energy', and my mother would always come to mind. That sentiment seemed utterly right for Yoga for Alzheimer's and of course, yoga is suitable for everyone. Launching Yoga for Alzheimer's is my way of doing what I can to make a difference to a disease for which there is currently no cure.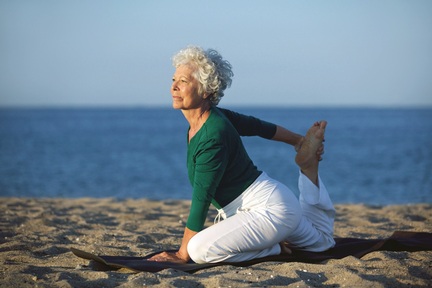 "Yoga is a fusion of the body and mind, it is deeply relaxing and over the years it has provided me with strength, particularly when my mother was given her life-changing diagnosis of PCA. It's very difficult to explain how I felt when she was diagnosed. It felt unreal, devastating, frightening.
"But my mother continues to be beautiful, strong, funny and inspiring. She's incredibly social and active and also youthful. Above all, she is my mother and I want to embrace every bit of that. I never take any moment with her for granted and that will never change."
Though Ingrid's mother Valerie doesn't practise yoga herself, she has taken up singing, painting and playing the piano. As a published novelist and writer who is now unable to read easily or write, Valerie now talks about her experience of living with PCA, helping to inform others about the disease and challenge perceptions about what life is like living with dementia.
Following the success of last year's pilot event, the initiative is being introduced nationwide and will include most major UK cities in 2016.
Led by trained yoga teachers, events are being held in: London, Cambridge, Bristol, Cardiff, Swansea, Oxford, Birmingham, Newcastle, Liverpool, Nottingham, Norwich, Leeds, Glasgow, and Edinburgh.
Television presenter and interior designer Linda Barker has lent her support to Yoga for Alzheimer's, after her own father sadly passed away with dementia in 2014 at the age of 87.
One in three people over 65 will die with dementia
For Linda, who took up the exercise at the age of 40, yoga has become a way of life, speaking about the initiative, she said: "Yoga for Alzheimer's is a fantastic concept and one I am extremely proud to support as it's a cause close to my heart.
"My father, Bob Barker, had a raft of health problems, including dementia, and spent the last years of his life in a care home before passing away in September 2014.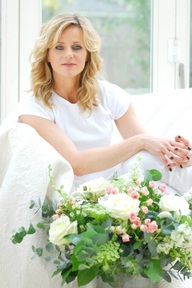 "He was comfortable in the care home and he was looked after really well, but it was sad to see someone so very capable and strong stripped of his strength and dignity.
"My mother, Dorothy, died aged 76 from heart disease. Seeing the impact of illness on my parents has more recently been a motivator for keeping myself in the best of health.
"I do yoga whenever I can - at least three times a week - which also helps me relax.
"I'd encourage everyone to support Alzheimer's Research UK's vital work by signing up for a Yoga for Alzheimer's event - every penny raised will make such a difference in the fight against dementia."
Chief executive of Alzheimer's Research UK, Hilary Evans, said: "We are very grateful to Linda for supporting Yoga for Alzheimer's, it is going to be a really enjoyable event.
"One in three people over 65 will die with some form of dementia. It can only be defeated through research but funding lags far behind other serious diseases.
"At Alzheimer's Research UK we are grateful to each and every supporter who has helped to raise money towards our scientists' pioneering research. Alzheimer's Research UK is leading the way in finding preventions and treatments for dementia.
"We are very proud to be hosting inclusive events and those signing up to Yoga for Alzheimer's are going to have a fantastic afternoon of yoga taught by some very skilled teachers."
An inclusive event open to people of all abilities
Ingrid added: "I can't believe all the support we've had for Yoga for Alzheimer's so far, it's been incredible.
"Now we need everyone to get on board for this year's event and sign up to raise money for vital research into dementia.
"The event was designed to be inclusive. We know not everyone can run a marathon, but if everyone can put forward one to three hours of their time to try something they've never done before then we'll be one step closer to defeating dementia.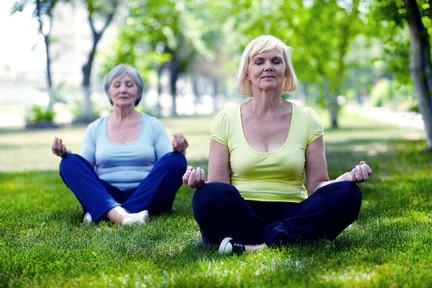 "Equally, if you practice yoga regularly why not take part in your favourite activity and raise money for a great cause at the same time?"
People of all abilities and levels of fitness are being encouraged to sign up to their nearest event. Tickets cost £15 and 100 per cent of all profits will go to Alzheimer's Research UK, while those taking part are also being encouraged to raise as much money in sponsorship as possible.
Anyone who would like to take part, but can't get to a session can sign up online to take part in their own homes.
For more information on Yoga for Alzheimer's events nationwide, visit: www.alzheimersresearchuk.org/fundraising/yoga-for-alzheimers/
To follow the conversation on Facebook, visit: https://www.facebook.com/YogaAlzheimers/ or @YogaAlzheimers on Twitter.