A student photography project is helping to highlight the importance of local carers support services among UK carers.
The project titled 'For someone else' focuses on a group of carers living in Cornwall, providing care for their husbands, wives, mothers, fathers, siblings and friends. 'For Someone else' contains a series portraits of the carers involved in the project and a Podcasts of each person speaking about the reasons why they care and who they care for.
There are 6.5 million people living in the UK acting as unpaid carers, by 2037 this figure is expected to reach nine million, while more than 6,000 people become a carer every day or nearly 2.1 million people a year.
A 'second' NHS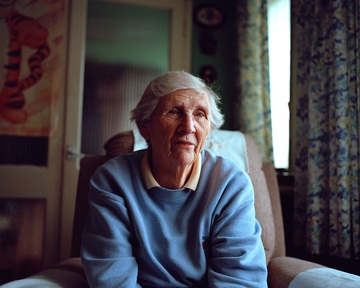 The care provided by the UK's unpaid carers saves the UK economy £132 billion every year, the equivalent of a second NHS.
The photographer behind the project is final year Falmouth University student Hannah Wright. Due to graduate this summer from the Press and Editorial Photography course at the university, Hannah explained her inspiration behind the project. She said: "After working on projects based around dementia and meeting some of the carers of people with dementia I became interested in sharing their perspective."
The nation's unpaid carers provide round-the-clock care to loved ones and friends while three million of those caring are also in some form of paid work. More than two million people give up work to care for a loved one with a further three million reducing their working hours.
Carers Week 2016 runs between 6-12 June and is an annual campaign to raise awareness of caring and highlights some of challenges faced by the UK's unpaid carers.
Building Carer Friendly Communities
As part of Carers Week, the charity have published a research report on this year's theme: 'Building Carer Friendly Communities', which aims to raise awareness of the problems experienced by carers and to support carers to look after their loved ones well, while also recognising that they are individuals and have needs of their own.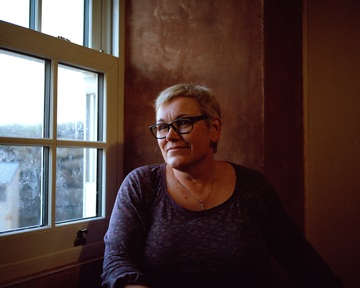 Emily Holzhausen leads the Carers Week partnership, she said: "Carers have told us that it makes a huge difference to their lives when they are supported by their local services and communities; whether that's being offered a flexible appointment to see their GP, having flexible working policies from their employers, or their school raising awareness of caring and disability.
"Despite this, the majority of carers told us that their local community was not supportive of their caring role, which in turn is having a significant and negatively impact on their life chances.
"By shedding light on what it means to be a carer, we hope that everyone will be inspired to do what they can to make life that little bit easier for carers. Building Carer Friendly Communities won't happen overnight, but we can make them a reality – one brick at a time."
'You don't have a social life as a carer'
The project has been months in the making, beginning the project in October 2015, Hannah spent time developing her ideas and meeting with carers support groups and forums alongside interviewing and documenting the carers in their surroundings.
She explained: "I got in contact with Cornwall Carers service in order to ask for their help and support in gaining access to carers in the surrounding area. They were extremely helpful and have and still are very involved in the project.
"The first three months of the project were very much full of meetings with various organisations and carers groups, after all of this I was able to connect with people, explain and discuss the project with them in order to make them feel comfortable and more open to participation."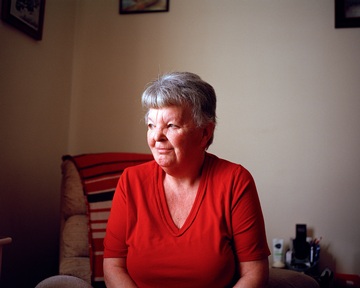 Anne Heron is just one of the carers Hannah photographed, she cares for a friend. After her own marriage broke down, Anne ended up living with her friend and became her full-time carer.
Describing her experience, she said: "I've got not real social life, you don't have a social life as a carer. I started of just being a friend of the lady I care for, I used to be her Avon lady funnily enough."
Though they now live separately, Anne still visits the lady she cares for most days and continues to do her shopping on helps around the home. She doesn't socialise much, but does volunteer at a local charity shop and attends the local carers support group in Helston where she lives.
She continued: "I've been caring for her for 15 years now, it was hard work, she was unable to do anything. Now life is a bit easier – not a lot, now she's getting older, and she's got the early signs of dementia, it's just as hard. You never know from one day to the other what you're going to be doing and I find it hard to plan anything for myself.
"It is affecting my own health, I have my own health problems and though I have enjoyed it up until now, it's just something I've fallen into and now I can't get out of it."
Listen to some of the carers featured in the project speaking about their experiences, below.
According to Carers UK and Carers Week, more than half of carers have let health problems go untreated because of their role as a carer while half of carers have experienced their own mental health decline. Nearly half of carers struggle financially and nearly a third of carers revealed they only get help during an emergency.
Carers are losing their identity
Working with and photographing the carers in her project allowed Hannah to have a unique insight into why they care and the biggest problems they face as part of their caring role. She said: "I think the biggest struggle for carers, is 100 per cent the lack of time for themselves and in a way loss of identity - coupled with a lack of financial support and the emotional impact that caring for a loved one has.
"I think the majority of issues come from the constant care, the tiredness that comes with that and not being able to go out and do the shopping or not having enough time to see friends or just generally feeling a little trapped. Luckily some are able to have home care workers in a few times a week, but not everyone's lucky enough to get that funding or to have that kind of money to hand."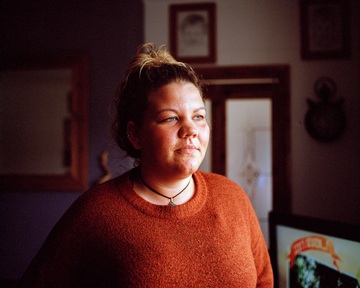 Focusing on carers in Cornwall, Hannah found that though many of her subjects found their role as carer difficult and physically and emotionally challenging, many are now receiving help and are attending regular carers support groups in the local area.
Hannah added: "When speaking to people about my project a lot have had some experience of a caring role or know a little bit about it, which is great, however I have also spoken to a lot of people who have no idea that there are people who care 24/7.
"All the people that I have photographed are caring for a loved one, they aren't doing it for money they are doing it because they love that person. Most of them didn't choose to become a carer, generally it's the unfortunate hand that they have been dealt and have had to adapt to. I think that this is the most interesting side of care, your loved one could be put into a situation where they need full-time care and your life will change, and this is the situation that millions of people in the UK are faced with every single day."
For more information on the project visit: http://www.forsomeoneelse.co.uk/ or to listing to the podcasts, go to: https://itunes.apple.com/us/podcast/forsomeone-else/id1091341308.
To find out about Carers Week, visit: http://www.carersweek.org/.