Fuss-free phone service helps older people with sensory loss stay connected
16-Jun-16
Article By:
Melissa McAlees, News Editor
The Royal National Institute of Blind People (RNIB) has partnered with Fuss Free Phones to offer a mobile phone handset and service that enables people who are blind or partially sighted to easily place and receive calls, send and receive text messages and use the internet.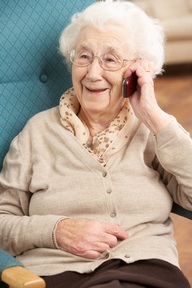 Fuss Free Phones is a personal mobile phone service combining a handset with a round-the-clock live telephonist to help people with sight loss stay in touch, whilst enjoying the benefits of a mobile phone.
Simon Rockman, founder at Fuss Free Phones, said: "As traditional phones become more technically developed, they can become less user friendly for sensory impaired people. For example, Siri is a great innovation but is hard to use for people who are both elderly and experiencing sight loss.
"We are thrilled to be working with RNIB to help blind and partially sighted people communicate using all the same channels that fully sighted people do."
According to RNIB, someone in the UK begins to lose their sight every 15 minutes. At present, around two million people in the UK are living with sight loss.
Founded in 2013, the fuss-free handset has been purposely designed for ease of use. Users can press the big button on the handset to speak to a friendly, local telephonist who can manage their phone book, place and filter incoming calls, send and read text messages and find information on the internet.
By managing a call list for all customers, Fuss Free Phones' telephonists ensure only genuine calls are put through and unwanted calls and texts are blocked, mitigating nuisance calls.
Research conducted by the Financial Conduct Authority (FCA) recently revealed that more than a quarter of people aged over 55 are falling victim to investment fraud.
In the UK, mass marketing scams involve unsolicited contact including cold calls, post and emails as the most common techniques used by investment scammers.
Countdown host Nick Hewer believes 'we should all be outraged at the lengths that callous and criminal investment scammers will go to cheat people out of their money'.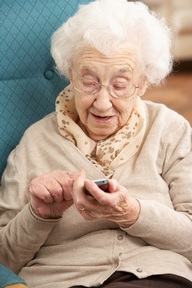 He said: "Scammers are embedding themselves into people's lives and pretending to be close friends of their targets, frequently the elderly and those living alone, before draining their life savings on a false promise of great returns through bogus investments. The tactics that these criminals use are very, very sophisticated; they could suck in even the savviest of investors, something that everyone should be aware of."
Senior product manager at RNIB, Graham Barry, commented: "We are excited that our customers are now able to buy one of our most popular mobile phones loaded with the Fuss Free Phones telephonist service.
"Fuss Free Phones serves as a personal concierge service and you can also opt to only receive calls from the numbers on your list. We hope this new product will help people feel more confident in using their mobile phones."
Mary Beskeen, a Fuss Free Phones customer, added: "Before I had Fuss Free Phones I had to use my own directory. Because I couldn't see properly, a friend gave me an enormous magnifying glass. This worked well for a while but as my eyesight deteriorated I needed a different way to contact people.
"Now, all I have to do is pick up the phone, tell the telephonist who I want to speak with and be put through. Now I have over 200 people in my contact list and getting through to them is so easy."
For more information on Fuss Free Phones visit: http://shop.rnib.org.uk/accessible-technology/telephones-and-mobiles/fuss-free-phones.html