Half a million older men living with loneliness
17-Jun-16
Article By:
Ellie Spanswick, News Editor
Loneliness is a growing problem among older men, with one third of men aged over-65 living with long-term health problems, more than half a million of them are lonely, according to a new report by Age UK.
The charity is warning that in the coming years, there will be many more older men living alone - increasing their risk of becoming lonely, and predict figures to rise by 65 per cent by 2030.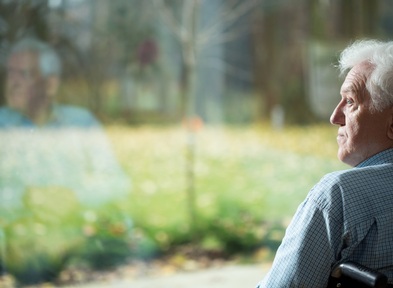 The study reveals that older men who live alone are more likely to be lonely than women who live alone, while they are likely to have less regular contact with family and friends adding to feelings of loneliness.
Director of Age UK, Caroline Abrahams, said: "Loneliness is a widespread problem among older men, especially for those who are unwell, bereaved or who have seen family and friends move away. As more older men live longer we need to appreciate that the numbers who are chronically lonely are likely to increase too – unless we do something about it, which we can and we must do.
"Loneliness is often a hidden issue, as many older men tend to be stoical and reluctant to admit how lonely they are – but facing the ups and downs of later life alone shouldn't be 'the new normal' for any older person.
"We all have a responsibility to take action and help the older people in our lives. A simple phone call or a visit could mean the world to someone who is feeling lonely and forgotten."
The report highlights that the risk of developing feelings of loneliness and isolation increase with age, and among them include: long-term health problems and disabilities.
Age UK is warning that although society is becoming increasingly aware of the risks of loneliness for older women, older man can be equally as badly affected and the number of men experiencing loneliness is rising.
The charity is calling for action to raise awareness and provide support to men who are experiencing loneliness – which is becoming a significant health challenge and part of the reason that life expectancy for men is catching up with that of women.
Nearly 90 per cent of people aged o65 and over surveyed revealed they felt that there should be more help for lonely older people and more than 25 per cent felt that a 'once a week' visit could help most people who feel lonely.
A further 15 per cent said they thought that attending a local club or group or getting to know their neighbours better would help people the most.
There is significant evidence to suggest that loneliness can have a serious effect on people's health – leading to increased reliance on healthcare and social care services.
More than one million older people living in the UK are recognised as being chronically lonely, which can have implications on their mental health with research suggesting that long-term loneliness can be as harmful as smoking 15 cigarettes a day, in addition to increasing the risk of developing dementia, depression and high blood pressure.
The report reveals possible reasons for the growing number of lonely older people, citing families being geographically scattered due to factors such as: the changing jobs market, working families living busy lives and more people using electronic communication, stressing that older people can feel left out if they cannot join in.
Age UK is calling for measures to support and identify older men and women who are isolated and lonely. The charity is calling for the Government to recognise loneliness and isolation in later life as a serious health problem and commit to action to help combat it.
Commenting on the analysis, director of the Campaign to End Loneliness, Marcus Rand, said: "The new findings by Age UK add even more reasons to the mountain of evidence to act. Chronic Loneliness is a growing epidemic and must be tackled head on as both a public health issue and a community responsibility. Every local authority in the country should put in place a clear action plan with measurable targets for reducing loneliness in their local population."
Charities across the country, including local branches of Age UK and organisations such as the Campaign to End Loneliness support and run initiative to support older people who feel lonely but urgently require regular funding to help them maintain the services they provide and create a network of community services to prevent loneliness among the UK's ageing population.