An artist virtually bed-bound with dementia, who has found art sets her free, is taking part in an art exhibition designed to challenge public perceptions about older age and dementia.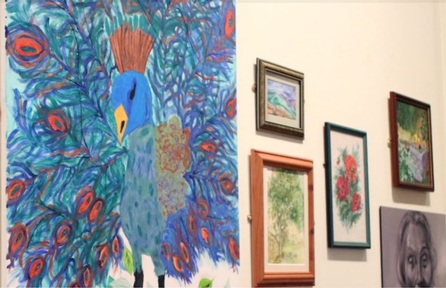 Golden Gallery Art & Soul is a collection of paintings, sculpture and textiles created by residents from The Abbeyfield Society's care homes. The pioneering exhibition is at Birmingham Museum & Art Gallery and will then be touring the UK.
Art is known for being an important communication tool for people who have lost the power to speak as well as helping older people to connect with memories, participate in brain stimulating activities and boost their wellbeing.
Abbeyfield's head of dementia and innovation April Dobson, said: "Art empowers people. It helps to make them feel involved and is also incredibly stimulating and therapeutic. It can give people a real voice for their thoughts and ideas and helps them to unlock memories and emotions too.
"It's hard to overstate just what a profound impact art can have on the lives of people with dementia and for those who may be unable to express themselves through speech or to enjoy conversations due to health conditions like a stroke or deafness. We hope that through the Golden Gallery Art & Soul Exhibition we can help to change people's perceptions, so they look past the condition and see the person for who they are."
For Winifrid Spoor who lives at Abbeyfield's Grove House in Gosforth, Newcastle upon Tyne, painting has made a huge difference to her daily life.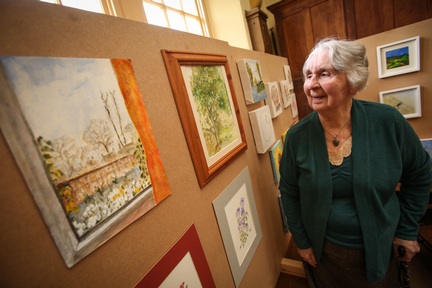 A series of debilitating strokes has left her struggling to speak and she is often frustrated at being unable to express herself.
Ms Spoor, who honed her skills through an art course at Newcastle College as a mature student, took up art again in the care home by doodling garden views from her bedroom window onto a scrap of paper with a biro pen.
Unable to grip the paintbrush at first, she persisted and with the encouragement of Abbeyfield staff and her family, began creating vivid watercolours of the colourful views from her bedroom window. Now, she is a prolific painter and her days are filled with creating art.
Her daughter Catherine said: "People think that when you go into residential care you have to give everything up, but my mum is proof that it doesn't have to be like that. The staff at Abbeyfield have helped to nurture and encourage Mum and her art.
"They know she finds group conversations difficult as a result of her stroke, so they have helped her keep busy and enjoy her painting which keeps her occupied and gives her a sense of purpose. Instead of watching daytime television, I know she is enjoying her painting which continues to be such an important part of her life.
"Mum's art has become a conversation starter. We can talk about colours and about what we can see looking out of the window and how mum has interpreted that. It gives us a new piece to talk about and share."
Reverend Michael Laparge of Abbeyfield's Drake Lodge in Tavistock, Devon, a former silver medal holder for rowing in the 1948 London Olympics and World War II Pilot, whose love of art flourished while he was a missionary in Kenya, is also exhibiting his artworks in the show.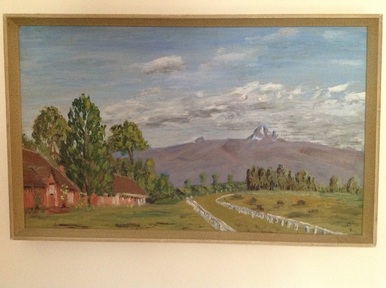 He said: 'While I did do some art courses, I think I have inherited the skills I have. My grandfather was a watercolourist and my family were very creative."
His time in Kenya proved to be an inspirational period.
"My favourite painting which hangs in my room here at Abbeyfield shows Mount Kenya. I always painted it en plein air (in open air) which was much easier in Kenya than it was here. I was convalescing at the time and in a very relaxed mood. The painting captures the sense of warmth and the smells. Looking at it I am transported back to Kenya. It brings back memories of happy times."
"Art is very important to me – it's a pastime but if a picture works it's very satisfactory - things don't always go right however - I have a whole drawer of what I call seconds!
"I find art very peaceful. My late wife used to sit nearby and read a book. I would become absorbed in my work."
For June Pallant, 87, who moved into Abbeyfield's Paddy Geere House in Ipswich, Suffolk, 18 months ago following the death of her husband, art gives her a chance to forget about any worries. "While you are painting you can think of nothing else – it takes your mind off other things. If you have other worries you forget about them as you get so engrossed in your work," she said.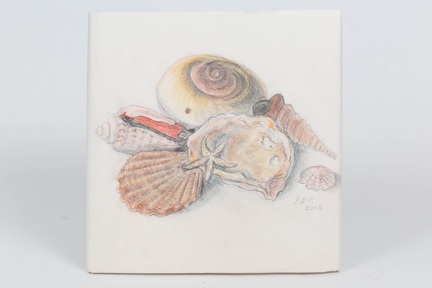 June's favourite subject to paint are the seashells she has collected from around the globe.
"I have a lot of shells that I paint. Some from Australia, some from California – they all have a story. They are very difficult and I always ask myself why am I painting them, but I like a bit of a challenge."
Rosie Barker of Birmingham Museum & Art Gallery called the exhibition an "uplifting experience" and said: "The range and quality of work demonstrates that there is so much more to a person than their age or medical condition, and that talent and personality shine through!"
Golden Gallery Art & Soul will be at Birmingham Museum & Art Gallery until 14 October, when the collection moves on to Nottingham City Arts Headquarters, St Albans and Belfast.