Jo Wood, who has worked as a home care worker for Carefound Home Care (Harrogate) for nearly five years, reveals she loves it and says: "I really enjoy going to work. I meet lots of different people and I really feel I am making a difference".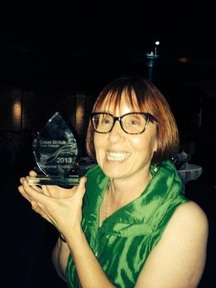 Ms Wood left nursing to go into home care. "With quite a few of the people I care for, I am the only person they see in the day so I want to make it really good for them. To them I am the link with the outside world.
"I see around four to eight people a week. I am lucky as one I see for four and a half hours a day which is lovely as you really get to know them when you are visiting for that length of time."
You need to be 'cheerful, empathetic and a good listener'
To be a home care worker, Ms Wood says you need to be cheerful, empathic and a good listener. "You have to be able to make the person feel as if they are very important for the time you are with them. Some people find it hard working on their own all the time but you get used to it."
Carefound, a provider of specialist home care and dementia care services to older people in North Yorkshire, does not do the short 15 minute visits, which have come in for a lot of criticism in the last few years, due to local authorities cutting spending on home care.
"Our shortest visit is an hour. I can't see that you can do anything of value in 15 minutes. You would just be flying in and flying out. It must be very frustrating for someone having to work like that."
Typical working day
Ms Wood reveals what a typical working day is like as a home care worker. "I visit elderly clients in their own homes in and around the Harrogate area (North Yorkshire). I love my job - no two days are ever the same even though I generally visit the same clients.
"On a typical day my first visit will start at 7:45am. I go to see an elderly gentleman who lives alone but has family close by. I am there to give him the confidence to shower independently, prepare his breakfast, wash-up, clean the bathroom after he has finished using it, and carry out any other tasks he may need doing such as ironing. I check he is eating his breakfast and has all he needs before leaving for my next appointment.
Specialist dementia training
"After this I drive to my next client - an elderly lady with dementia who lives alone. I am able to use the specialist dementia training we receive at Carefound which is based on something called the 'SPECAL method'. This includes things such as not asking direct questions (this is very hard at first but does make a huge difference), not contradicting, and gathering as much information as possible from the 'expert' (the person with dementia).
"I arrive, let myself in and call out 'hello' to let her know that I have arrived. I find her in bed and offer to assist her with a wash and a change of clothes. This is accepted along with the promise of a footbath. I get everything ready and we chat and laugh together as she has a wash and changes her clothes. Then she puts her feet into the bath of warm, soapy water and sits, soaking and splashing her feet. We talk about all sorts of things - her love of running, being in the army, working in a shop and then somehow get onto talking about childhood memories and sledging!
"At the end of the visit I always tell her when I will be back and leave her with a cup of tea and a biscuit, and she waves me off down her drive from the window of her bungalow.
Life stories
"I then go on to my next client who is a gentleman with dementia in need of prompting and assisting with taking his medication. I am met at the door with a smile and set to work, gathering his medication from the safe where it is kept. Once they are taken, signed for and put away, we sit down with a drink. He tells me of travels to France and Portugal. Then we move to South Africa and all the animals he saw up close. He talks of elephants and lions, so close that you could touch them - at the end of the visit I feel I have travelled the world and not even left Harrogate!
Last client of the day
"I now go to my last client of the day. Here I am greeted by the client's dog at the door. I start by feeding the birds, stocking up the garden bird feeders.
"I then find out her lunch preferences and find out what she would like for supper. I make soup with assistance from the client and she decides she would like a jacket potato and salad dressing for lunch. I also prepare garlic mash and vegetables for her to have with her tea. Whilst the client has her lunch I take her dog out for a walk into the grounds of the estate where she lives. I might do a little ironing, cleaning or tidying before leaving, refill her water jugs and change the dog's water.
'You learn so much about people and their lives'
"The joys of this job really are the variety, the people you meet and the journeys you can go on with them. You learn so much about people and their lives without having to ask too many questions, just by listening. Where else can you get so much variety, laughter and exercise?"
click here for more details or to contact Carefound Home Care (Harrogate)