Jeremy Hunt, who has become deeply unpopular as health minister by forcing junior doctors to accept a contract they don't want, has kept his job.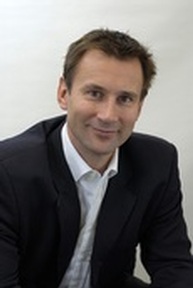 Since Theresa May became Prime Minister, she has made drastic changes to the Cabinet, including making Boris Johnson Foreign Secretary, Philip Hammond Chancellor and Amber Rudd Home Secretary.
There were reports Jeremy Hunt had been sacked but then he tweeted 'Reports of my death have been greatly exaggerated... Thrilled to be back in the best job in Government'.
Chris Ham, chief executive of The King's Fund, said: "Jeremy Hunt faces some formidable challenges. He is on record as saying the NHS will need more money and he must now lead an honest debate with the public about what the health service can deliver with its budget. This means reviewing current priorities and avoiding making new commitments which cannot be funded.
"Tackling the growing crisis in social care will be a key test of the Prime Minister's promise of a country that works for everyone and must move much higher up his agenda. He must reignite the stalled debate on funding reform and make the case to his Cabinet colleagues for it to be a key priority for the Government."
He called for Mr Hunt to "rebuild trust with NHS staff, especially junior doctors, to ensure that a motivated, engaged workforce delivers the best possible care for patients".
Janet Morrison, chief executive of Independent Age, the older people's charity, said that his reappointment as Secretary of State for Health cannot simply lead to business as usual.
"His urgent priority must be to tackle the underfunding of our National Health Service and the growing crisis in the 'Cinderella' service of social care. Too many people are stuck in hospital beds longer than they need to be, waiting times to see GPs are increasing, and hundreds of thousands of frail and elderly people continue to struggle with basis tasks such as washing, dressing and eating as cuts to social care continue to bite.
"Now is the time for the Secretary of State to be bold and consider long-lasting, cross-party solutions to creating a health and care system that will properly support our ageing population. "