Sunderland man to take on Great North Run for parents with dementia
11-Aug-16
Article By:
Ellie Spanswick, News Editor
A man from Sunderland has decided to take part in the Great North Run and raise vital funds for Alzheimer's Research UK, after both of his parents were diagnosed with dementia.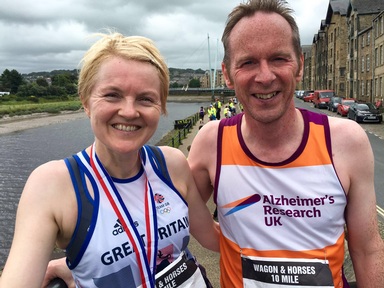 Steve Dodsworth, aged 53, only began running two years ago, gradually building up distance and stamina by participating in nearly 80 regular parkruns, before signing up to take part in one of the country's most well-known half-marathons.
He chose to take part in the event after his parents Mary and Ray Dodsworth were both diagnosed with dementia. Mary who is 74 has Alzheimer's disease, while her husband Ray aged 77 has vascular dementia.
The pair from South Hylton were diagnosed around the same time during the summer of 2014. Their conditions advanced so quickly that they moved into care before the end of the year.
Steve said: "We knew things were seriously wrong with dad when he was taken to hospital following a mini-stroke. Once there, he became very angry and aggressive, which wasn't like him. We brought him back home but he was still agitated, and then we noticed him arguing with people who weren't there.
"Since then, dad has lost his mobility, can't speak and doesn't recognise us at all. He lives in a secure unit where he's well cared for but his life just consists of sitting in a chair all day."
His mother symptoms developed differently to his fathers and had to move into a care home after she was found wandering in the street, unsure of where she lived. Steve explained: "My mum was always a chatterbox and it became obvious that something wasn't right when she started to say odd things, forgetting her youngest son was married and telling stories about events that hadn't happened. Then she stopped recognising people occasionally, including my dad who she'd been married to for 50 years. That was the most upsetting thing."
Now Steve's mum lives in a care home. He said: "Mum's a lot calmer now and likes to chat a lot, although she doesn't really understand what you're saying. Sadly, she doesn't remember her great-grandchildren anymore, who she used to dote on and, although she says she does, I'm not sure she knows who I am either.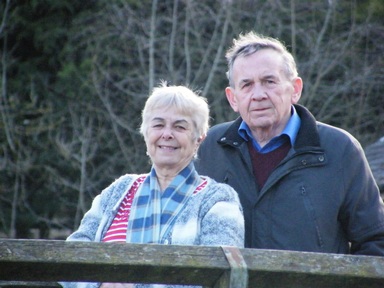 "This all happened within about six months – it was all so fast. I found that running really helps – it's a great stress-reliever. This whole experience has opened my eyes to how horrific dementia really is. It's a very hard thing to deal with and it's scary to see how much it can change someone. It's as if we are mourning my mum and dad whilst they are still alive."
This is not the first time that Steve has helped to raise vital funds for Alzheimer's and dementia, in 2015, Steve and his wife and sister-in-law walked the Yorkshire three peaks and raised more than £2,500 for Alzheimer's Society. So far this year he has already managed to raise more than £400 for Alzheimer's Research UK with a month still to go.
Sporting events manager at Alzheimer's Research UK, Kenneth Foreman, said: "The Great North Run is always a brilliant day and we're so grateful to Steve for racing on our behalf. One in three people over 65 in the UK will die with some form of dementia. Only research can beat this devastating condition that affects so many families across the world."
To support Steve or to find out more about the run, visit https://www.justgiving.com/fundraising/Steve-Dodsworth or text SRDX62£5 to 70070 to donate £5.