Skateboarder embraces 420-mile challenge to raise money for Alzheimer's research
26-Aug-16
Article By:
Melissa McAlees, News Editor
A skateboarder is hoping to raise £12,000 for Alzheimer's Research UK by travelling 420 miles from Cornwall to Kent on his skateboard.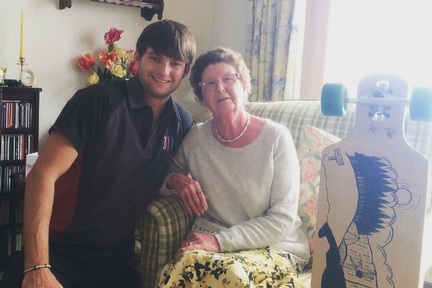 Alex Ruffhead, who lives in Folkestone, Kent, is taking on the challenge in honour of his 75-year-old nan Marion, who was diagnosed with Alzheimer's last year.
Explaining his motivation for the challenge, Mr Ruffhead said: "I love an adventure, the outdoors, the fresh air and the freedom. I'm also quite partial to a long skate, but I've never done something quite like this before.
"I've used Google Maps as much as possible to check out the route so I'll be travelling mostly along the coastline but heading inland at some points. I'll be on pavements, roads and some cycle paths too. The wheels I have are bigger than usual which should allow me to travel over rougher terrain."
'I love an adventure'
As a teenager, Mr Ruffhead spent many hours watching 'Long Treks on Skate Decks' and always felt inspired by their trips. He added: "I got my first skateboard as a child, but I was useless. I couldn't 'pop an ollie' then and 13 years on, aged 23, I still can't now. Small boards and arial tricks just aren't for me.
"Most of my school holidays were spent trundling down the A303 and back as North Devon was our second base location. This is where I saw my first longboard and that Christmas Santa really treated me. I had an old school Sector 9 top mount cruiser. That's where the love began and it kept me going for years.
"I have a bad habit for seeing something and saying 'Yes I can do that', and that's me hooked. I get an idea and run with it and that's how I got to this trip, I love an adventure and I love a good skate."
Armed with a kit and a tent, the 23-year-old began his adventure on 6 September at Land's End and aims to complete the challenge in 12 days, covering 35 to 40 miles each day until he arrives at Broadstairs.
Mr Ruffhead is raising money for a project being launched at the University of Southampton, where researchers aim to find a drug that will reduce nerve cell death in Alzheimer's disease and improve the associated symptoms.
The £12,000 Mr Ruffhead is hoping to raise will pay for a chemist to work on the project for three months.
'My nan was diagnosed with Alzheimer's'
"Last year my nanna was diagnosed with Alzheimer's and she has declined quickly during the time I've been planning this trip," Mr Ruffhead said. "She is an amazing woman with the biggest heart and is always smiling but watching her condition get worse is very sad.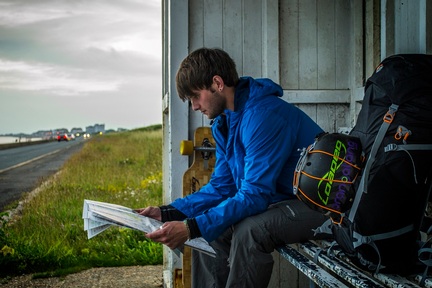 "She's aware of her condition and gets very frustrated, but also doesn't like to admit it because she's always been so capable. She knows who we are but is now starting to struggle with even basic tasks like cooking a jacket potato.
"The cost of research that goes into finding drugs to slow her decline is staggering. That's why fundraising is so important. We have to keep investing in research to find a way to stop this disease."
Rebecca Futrall, regional fundraising officer for Alzheimer's Research UK, said: "We couldn't believe it when Alex said he was going to skateboard for more than 400 miles. It's a huge challenge and we wish him the best of luck.
"There are 850,000 people with dementia in the UK, including 21,000 in Kent. Alzheimer's Research UK is leading the way to find treatments and preventions for dementia. It wouldn't be possible without supporters like Alex so we are very grateful to him."
For more information on Mr Ruffhead's trip 'The Southern Push' visit: www.thesouthernpush.co.uk or to visit his fundraising page go to: virginmoneygiving.com/AlexRuffhead