'My Family - Not the sitcom' is a hugely 'disrespectful celebration' of the lives of comic David Baddiel's father Colin, who has a rare form of dementia, and his late mother Sarah.

'Calling up their weirdnesses'
David Baddiel's one-man West End show 'My Family Not The Sitcom' zooms in on the subjects of loss, death and dementia.
Intent on telling the unvarnished truth about his parents as opposed to 'propaganda', he says: "When family members die or are lost to dementia, all we tend to say about them is that they were wonderful.
"'If that's all you can think to say, then you never knew them at all.
"To truly remember our loved ones, you have to call up their weirdnesses, their madnesses, their flaws."
His father Colin Baddiel, a former research chemist with Unilever, now receives 24-hour care for his condition. His frontotemporal dementia, also called Pick's Disease, results in damage in the frontal lobes of the brain that deal with behaviour, problem-solving, planning and the control of emotions.
Sexual disinhibition
In his father's condition, the comic, novelist and TV presenter believes sadness and humour are inextricably linked.
He recalls that at his mother's funeral in 2014, his father asked women to go to bed with him and saw a sad reality collide with the absurd and funny.
When the comic was told by a neurologist the symptoms of his father's rare form of progressive dementia Pick's disease included uncontrolled swearing, irritation, inappropriate behaviour, sexual disinhibition and extreme apathy, his response was to say 'Sorry, does he have a disease, or have you just met him?'
Kicked out of a day centre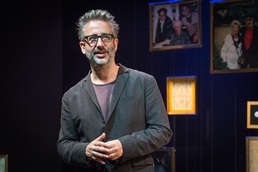 Baddiel says his father's rudeness and aggression led to his father being banned from a Jewish day care centre.
The English comedian and television presenter is known for his work in the television show The Mary Whitehouse Experience and comic partnership with Frank Skinner. Baddiel and Skinner have also topped the UK singles music chart twice with the English football anthem 'Three Lions'. Baddiel is also a novelist, screenwriter and author of children's books.
Writing in the Sunday Times magazine, Baddiel said dementia, unlike other illnesses, does not give sufferers the chance to keep a diagnosis private.
He wrote: "Every time you tell someone that your parent has dementia, you are aware that you are doing so without their permission. The decision to reveal or not to reveal that you are ill, is, with most illnesses, a personal choice."
David Baddiel has told his father about his new stand-up show, yet his dad's short-term memory means he will not remember the conversation.
The comedian performed his irreverent homage to his parents last May and June at London's Menier Chocolate Factory, and its success has resulted in him taking 'David Baddiel: My Family Not The Sitcom' to the West End's Vaudeville Theatre.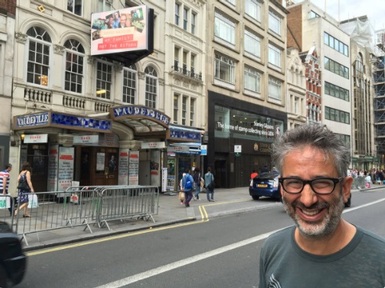 What he has to say about memory and true unvarnished recall, may wittily call out his parents' behaviours including his mother's affair with a golf memorabilia enthusiast and his father's dementia-induced actions but his art comes from his love.
Rather than stay silent and shelve away his dad's dementia as a 'taboo' topic, he has opted to shake up the dementia narrative and force his audience to see the lighter side of this weighty issue.
He says families are forgiving and in his promotional interviews he speaks of an acceptance you get from family that comes from a place of love.
'David Baddiel: 'My Family - Not the Sitcom' is being performed at the Playhouse Theatre in London's West End on 28 March 2017 and runs through until 3 June 2017.
To book tickets click here