Two thirds of people with MS in the UK live in an area where there is a stark shortage of specialist nurses, a new report published by the Multiple Sclerosis (MS) Trust has revealed.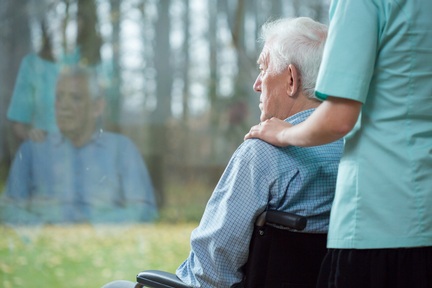 MS specialist nurses (MSSNs) provide vital specialist care and information to patients, which is crucial to their health and wellbeing, according to the MS Trust. Without specialist care, those with MS can feel as though they are left to manage this unpredictable and sometimes devastating disease alone.
Yet according to the report, sixty-four per cent of people living with MS in the UK – around 68,000 people – live in an area where there are not enough MS nurses to provide this specialist care. North-West England, Southern Scotland and London are among the areas worst affected by the shortage.
Amy Bowen, director of service development at the MS Trust said: "We believe that MS nurses play a vital role in helping people deal with the shock of diagnosis and can help them adjust to, and manage, a full life with MS.
"The dangerous lack of specialist nurses can have grave consequences for people with MS. They may have to rely on non-specialist support for what is a highly complex disease. And they may have to resort to using A&E services if their symptoms become worse."
With a strain on the NHS, MS specialist services are not a high priority so to combat the issue, the MS Trust is launching its #No1alone campaign to fund new specialist nurses, bringing more MS nurses to the areas in greatest need. In 2017 the trust will fund three new MS nurses to provide life changing support for thousands of people living with MS, with plans to fund more specialist nurses in the coming years.
Important emotional support
Thirty-six-year-old Rob Denholm from Manchester has recently changed to a new care provider for MS, after his previous one introduced a new system and saw the MS specialist nurse count drop from five to two, making their accessibility and availability to MS patients much more difficult. Prior to this, he had not seen an MS nurse for over a year. While he feels that doctors and specialists are skilled with regard to the practical and medical side of MS, he has missed the specialist advice and emotional support his MS nurse was able to provide.
"Given the nature of MS, you really need to speak to an MS nurse within 24-hours – for emotional support more than anything," explains Mr Denholm. "I had a very empathetic nurse and the level of comfort from the emotion that she showed was indescribable.
"I could talk to her about anything, things you're not always keen to talk about with a neurologist. They feed back to the neurologist, but it's easiest to talk to the nurse first."
Mr Denholm describes how having an MS nurse was beneficial not only for him but for his wife too: "She could speak to the nurse about her experience, like a sounding board. But it's not the same now so we moved my care."
Speaking more generally, Mr Denholm explains how the level of care he experienced when he was diagnosed over ten years ago has since changed: "It was very different back then. It was very easy to contact someone and I saw my nurse regularly. The level has dropped since then."
Twice the recommended caseload for nurses
Mr Denholm, having had no MS specialist nurse support available for the past year, is possibly one of the more extreme cases, but the situation shows little improvement for others; three quarters of MS patients live in areas where MSSNs have twice the recommended caseload due to the lack of specialist nurses.
The MS Trust has suggested that a manageable caseload of a specialist nurse is 358 patients. However, Liz Watson, an MS specialist nurse covering the Bradford district, has more than double that figure in her caseload.
"This results in patients getting a watered down service due to me splitting my time equitably among all of those patients," she explains. "It sometimes means that response time to phone calls is longer than it should be and the waits at clinics should be shorter."
In addition to the shortage of MS nurses, the MS Trust has identified a lack of vital administrative support as a further reason for the specialist support deficiency. According to the Trust's recent report, more than one quarter of MSSNs receive no administrative support at all within their teams. As a result, MS nurses spend large amounts of their days carrying out administrative tasks such as answering incoming phone calls, typing letters and reports and booking beds, instead of focussing their attention on clinical responsibilities.
The MS Trust has long campaigned to increase the number of MS nurses in the UK but there are evidently still not enough and existing MS nurses are also at risk. The #No1alone campaign, launched at the start of this month, will ensure that everybody living with MS can access the best possible care and no one has to manage MS alone.
The full report by the MS Trust can be accessed here: https://www.mstrust.org.uk/sites/default/files/MS%20Specialist%20Nursing%20in%20the%20UK%202016%20-%20updated.pdf