'Elderly Olympics' sees care homes compete in walking frame slalom
19-Sep-16
Article By:
Angeline Albert, News Editor
Never mind Rio 2016 and the Olympic and Paralympic Games, eager competitiors from care homes across the Swedish region of Jura have battled it out in their own Olympics.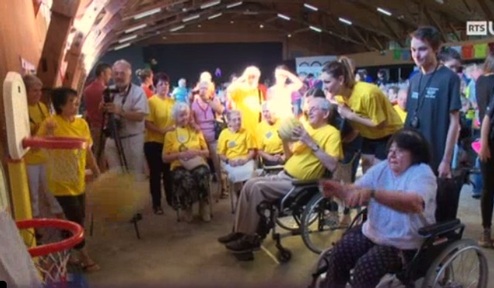 Some of the well-seasoned competitiors may have struggled to walk unaided but they set an impressive pace in the walking frame slalom.
Far from shrinking back from this challenge, the silver-haired athletes' eyes shone with a steely resolve that yelled 'bring it on' as they pushed their walking frames along the track.
If they were silently praying for a break, their 'game' faces gave nothing away as they passed one another during the slalom.
No less than 120 care home residents competed in five sports with teams from 12 care homes participating in Bassecourt, Jura on 13 September.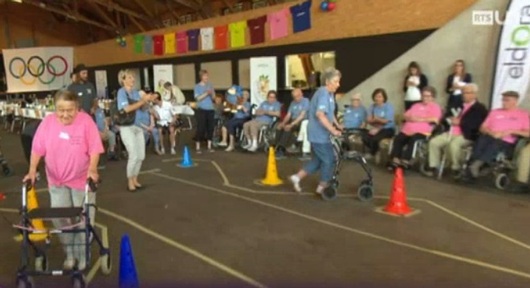 Wheelchair basketball, giant darts, stacking blocks and the more quirky game of hammering nails into a block of wood were among the sports played, but it was the determined and steady pace of the games that seemed to capture the zeitgeist of the event.
And when the races were done, it was the turn of the Olympian Eric Hanni to hand out the medals.
Eric Hanni from Jura, won a silver medal for Judo at the 1964 Tokyo Olympics and was hugely impressed by the efforts of the men and women, some of whom were more than triple his age when he competed in Tokyo.
The care home residents completed a period of training to prepare them for the event.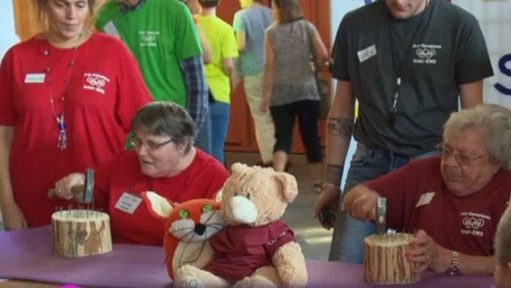 The society JURAncien, responsible for care homes in the area, organised the games to increase older people's confidence and their feelings of self-worth by giving them a chance to challenge themselves and others.
Audrey Kohler, activities coordinator at la Residence Claire-Fontaine in Bassecourt said: "They [the residents] realised through the training that they were gradually making progress in everyday life and daily gestures/movements can also help, so I think its beneficial to them."
And as the games drew to a close, unlike the younger Olympians of Rio 2016, the victorious did not opt for a victory lap or any showboating to the crowd. Most, it seems were just happy to have a sit down and a nice cup of tea.