Terry Jones, famous for directing and starring in the Monty Python films, Life of Brian and The Meaning of Life, has been diagnosed with primary progressive aphasia - a severe form of dementia affecting one's ability to speak.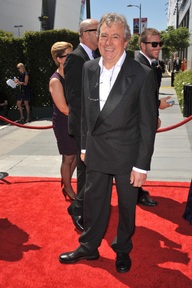 The 74-year-old is "no longer able to give interviews" as "the illness affects his ability to communicate", according to his spokesman.
Primary progressive aphasia, a variant of Frontotemporal Dementia, is a neurological condition causing a progressive loss of language which can worsen to the extent that one becomes nearly totally unable to speak, according to the National Aphasia Association.
Mr Jones co-directed Monty Python and the Holy Grail with Terry Gilliam and played Brian's mother in the Life of Brian. He was joined in these films by fellow Monty Python members - Terry Gilliam, John Cleese, Eric Idle, Graham Chapman and Michael Palin.
The Welsh-born star made his first public appearance since the announcement of his dementia diagnosis at the Bafta Cymru awards where he received a special award for his outstanding contribution to film and television.
He was presented with the award by friend and Monty Python co-star Michael Palin who said: "The first sketch we performed was as a pair of police officers at the Edinburgh festival and for the next few years we were inseparable.
"His force of character and tireless workaholism kept us all up to the mark. He has been relentlessly prolific while being a wonderful friend."
Mr Palin also put a touching message on facebook about his friend Terry Jones saying: "Terry J has been my close friend and workmate for over fifty years. The progress of his dementia has been painful to watch and the news announced yesterday that he has a type of aphasia which is gradually depriving him of the ability to speak is about the cruellest thing that could befall someone to whom words, ideas, arguments, jokes and stories were once the stuff of life.
"Not that Terry is out of circulation. He spends time with his family and only two days ago I met up with him for one of our regular meals at his local pub.
"Terry doesn't say very much but he smiles, laughs, recognises and responds, and I'm always pleased to see him. Long may that last."
Terry Jones has a seven-year-old daughter with new partner Anna Soderstrom, as well as two older children with his ex-wife Alison Telfer.