Jeremy Hunt makes 'long overdue' pledge to help ageing population by training more UK doctors
04-Oct-16
Article By:
Charley Walker, News Editor
Health secretary Jeremy Hunt has promised to deliver 25 per cent more training posts for the UK's medical students to make Britain a more 'self-sufficient' country.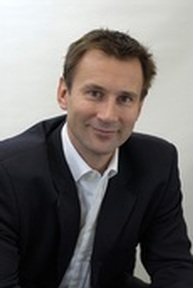 In a speech at the Conservative Party conference on 4 October, Mr Hunt said he plans to create 1,500 more medical school places every year (up from 6,000) from 2018, a move the health secretary believes is essential given the ageing population.
He told conference delegates gathered in Birmingham that he was proud that since 2010 "we've raised dementia diagnosis rates to one of the highest in the world" but added: "We need to prepare the NHS for the future, which means doing something we have never done properly before: training enough doctors.
"Currently a quarter of our doctors come from overseas. They do a fantastic job and we have been clear that we want EU nationals who are already here to stay post-Brexit.
"But looking forward, is it right to import doctors from poorer countries that need them whilst we turn away bright home graduates desperate to study medicine?"
Under the current system, only half the number of medical school applicants are offered a place. Mr Hunt's initiative will ensure all domestic students who wish to study medicine have the chance to do so, provided they meet the entry requirements.
Plan 'falls short' of what the country needs
A medical degree takes five years to complete, followed by a number of years further training, meaning it will be 2024 before any impact is felt from the changes.
Mark Porter, BMA (British Medical Association) council chair, said: "Jeremy Hunt has been health secretary for four years, and while it is welcome that he has finally admitted the Government has failed to train enough doctors to meet rising demand, this announcement falls far short of what is needed.
"We desperately need more doctors… but it will take a decade for extra places at medical school to produce more doctors."
'NHS can't cope without overseas doctors'
Mr Porter added: "This initiative will not stop the NHS from needing to recruit overseas staff. International doctors bring great skill and expertise to the NHS. Without them, our health service would not be able to cope."
The rise in medical school places is expected to cost £100m by the end of Parliament, which the Government intends to make up by increasing fees for overseas students.
Nigel Edwards, chief executive of Nuffield Trust, said: "For decades, the NHS has failed to train enough of its own staff, so increasing the number of UK-trained medical staff is long overdue, despite the huge contribution made by overseas doctors which must continue to be recognised."
The Health Secretary's plans also raise the question of whether more trained doctors will in fact lead to more doctors in the NHS. Students who are part of the new initiative will be expected to work for the NHS for four years after they graduate to provide a return on taxpayer investment to the service.
Graduates who fail to do so will face penalties, which could include repaying the £220,000 cost of their training.
Mr Hunt has hopes that this will result in more "home grown" doctors and fewer rota gaps, to provide a safer, more responsive NHS for years to come.
Yet with large numbers of current doctors due to retire and others leaving the NHS for other countries and opportunities, it is unclear whether the increase in medical students will have a significant impact.
Nigel Edwards added: "The success of this approach will largely depend on how well the NHS is able to ensure that, having trained these extra doctors, they are attracted to work in areas of greatest need, such as working as GPs and in rural areas."