'Ageist' mental health services failing to support older people
12-Oct-16
Article By:
Charley Walker, News Editor
The NHS is failing to provide adequate mental health treatment for people over the age of 65, according to a new report by Age UK.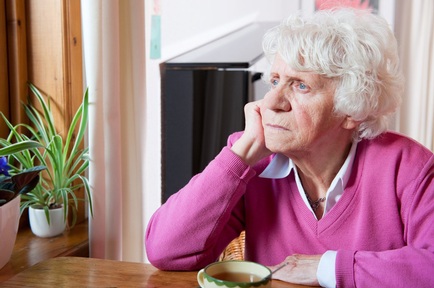 There are currently three million older people living with depression in the UK, yet the Royal College of Psychiatrists estimates that 85 per cent of these people receive no help from the NHS.
Due to the UK's ageing population, it is expected that the number of people over the age of 65 living with depression will increase to 4.3 million in the next 15 years. The charity Age UK is calling on the NHS to improve mental health services for older people.
Caroline Abrahams, charity director at Age UK, said: "Whatever the underlying reasons for such poor performance - and some will say it is ageism, no more, no less - it is certainly time for our mental health services to up their game when it comes to helping older people, and we look to NHS England to provide the strongest possible lead."
Older people usually respond well to talking therapies offered to those with mental health problems, often showing better recovery rates than younger people who undergo therapy.
However, the Department of Health's 'modest' target of 12 per cent of older people being referred for the NHS 'Improving Access to Psychological Therapies (IAPT) Programme' is missed by almost half. According to the Age UK report, it would take until 2031 before the original target of 12 per cent is met.
Davina Ludlow, director of carehome.co.uk, the leading care home reviews website, said: "It is tragic that older people have become practically invisible in today's society. Why should age exclude people from getting vital treatment for debilitating illnesses such as depression and anxiety?
"It is ludicrous that older people are not being given access to 'talking' therapies when recovery rates indicate they respond better to this treatment than younger people."
'Systemic failings'
Older people also experience longer waiting times for mental health treatment compared to those under 65 years of age. This is particularly evident in old age psychiatry, where waiting times have increased to 26 days over the last five years.
Caroline Abrahams added: "This is extraordinary and frankly it is also completely unacceptable in the twenty first century.
"We understand the acute pressures on mental health services but they do not justify what look to us like engrained, systemic failings so far as older people are concerned."
Mental health has 'taken a back seat' to physical health
Previously, mental health needs have been overlooked in older people, in favour of focusing on their physical health, but there is now a growing awareness that the two are inter-related.
Despite this, almost 40 per cent of mental health trusts have no policy for supporting comorbidities (the presence of more than one long-term condition) in people over the age of 65.
According to the report, failing to address mental and physical health together can seriously impact on an older person's recovery.
Dr Amanda Thompsell, chair faculty of Old Age Psychiatry, said: "For too long, older people's mental health has taken a back seat to their physical health needs. Sadly, this means that much mental illness goes unrecognised and untreated.
"Financial resourcing is part of the problem, but our acceptance of outcomes for the old that we would never tolerate in younger people is also to blame."
Loneliness, financial insecurities and major life changes are just some of the risk factors associated with depression and anxiety in older people. The report highlights, however, that these factors, which many associate with old age, do not make depression and anxiety a "normal part of ageing."
Davina Ludlow from carehome.co.uk said: "We urge the NHS to treat people over 65 in the same way as other members of society – with the same healthcare entitlements as the rest of us."