A lack of training for home care workers is leaving people with dementia in soiled clothing, without food or water or in hospitals and care homes when they should be at home, an investigation reveals.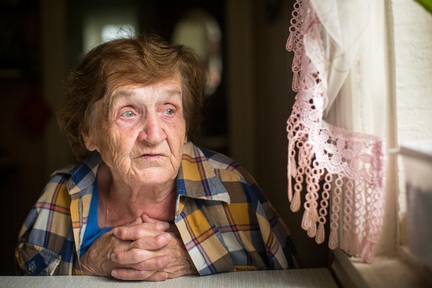 The Alzheimer's Society has highlighted a catalogue of failures by insufficiently trained home care workers which is resulting in poor care for those with dementia.
This includes not properly supporting people to eat or take medication, leaving people in dirty clothes for days or unwashed for weeks.
Those with dementia are also getting infections which are not identified by staff resulting in emergency hospital admission. Some workers' lack of dementia care training is also forcing people to move into care homes because home care workers cannot cope with people's needs.
The investigation into home care training involving research by the charity and the trade union Unison which reveals that although more than 400,000 people with dementia receive home care from 520,000 home care workers, over one third (38 per cent) of home care workers have no dementia training.
Workers asked for training but didn't get it
Some 43 per cent of home care workers have asked for further dementia training, however in more than half (54 per cent) of cases this was turned down.
Of the majority of workers (71 per cent) that do receive dementia training, it is not accredited, research by the charity and Skills for Care discovered.
The investigation into home care training involved 700 responses from home care workers to a Unison survey, research by Skills for Care, Freedom of Information (FOI) request responses from 119 local authorities in England, and a survey of 1,220 people affected by dementia.
The charity's survey of those affected by dementia reveals 98 per cent of people surveyed say home care workers do not have enough dementia training. Some 86 per cent of home care workers agreed that further dementia training would help them to provide better care for people with dementia.
'Unacceptable home care while workers cry out for training'
The Alzheimer's Research has said without vital training, carers fail to understand the unique nature of dementia or the impact of the symptoms, and cannot deliver care in the time constraints they work under. The charity's report also showed good home care support is delivered by a workforce of half-a-million staff but home care workers are crying out for more training.
Jeremy Hughes, chief executive of Alzheimer's Society said: "Care scandals in hospitals and care homes have been well-publicised, yet unacceptable home care practices are widespread and happen behind closed doors, hidden from public scrutiny.
"There is simply not enough money invested in the social care system. Home care workers are crying out for more dementia training - without it their hands are tied behind their backs. From the scandals we have exposed, it is clear they are not fairly or adequately equipped with the skills they need to support vulnerable people with complex needs.
"We need the Government to support empowered and well-trained home care workers who can transform dementia care in this country."
Fix Dementia Care petition
The Alzheimer's Society is urging the public to sign their petition asking Government to Fix Dementia Care at home. The petition calls for funding for training to counteract years of cuts to social care budgets to give the workforce dementia care skills. To sign the petition visit: www.alzheimers.org.uk/fixdementiacare.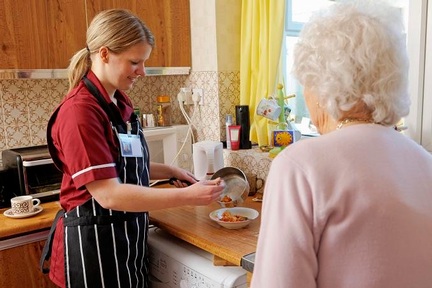 'Dad's last year was a living hell'
Linda Jackson reveals how she struggled to get good home care for her father Ken, who had Alzheimer's disease.
She said: "Dad was challenging at times and I was told that some carers refused to come back and care for him. They simply didn't know how to cope with his behaviour. He was distressed and worried, yet no one seemed equipped to look after him and give him the basic things he needed – food, medication, and comfort.
"Without a home care worker with adequate training dad struggled to make sense of his life. He needed someone who understood him and the way he was acting - to speak to him and calm him down.
"Often I felt like my dad was seen as a nuisance. I was frequently phoned to be told he had been rude to carers, wouldn't take his medication, and refused to let them in – but we were offered no solution.
"Dad's last year was a living hell and he was eventually sectioned under the Mental Health Act before dying six weeks later. No one's life should be this way – home care workers need training to help prevent people like my dad reaching crisis point."
The United Kingdom Homecare Association (UKHCA) is the professional association for more than 2,200 domiciliary care providers in the UK. The UKHCA's policy director Colin Angel said: "It is never acceptable that people receive inadequate care. Dementia is a complex condition which requires skilled and dedicated support for individuals and their families."
Dementia training pilot begins in new year
He said the UKHCA has worked with the Alzheimer's Society to develop a training programme for care workers to support people with dementia at home. It covers skills needed from early detection to support throughout the progress of dementia. The UKHCA's training programme 'Dementia Care for Homecare Providers' will be piloted from January 2017.
The home care sector is facing cuts of almost 40 per cent to adult social care budgets since 2010.
The UKHCA stated: 'We believe that a number of issues relating to inadequate care are a symptom of the way that home care services are commissioned by councils and the NHS, who themselves are facing increasing demands for care on inadequate budgets.'
Mr Angel added: "The UKHCA has consistently highlighted that underfunded social care impacts on the experiences of people supported at home and recruiting and retaining skilled workers."
1.2m older people do not get the social care they need
Meanwhile, a report published on 17 November by the charity Age UK reveals 1.2m older people are not getting the social care they need.
The number of older people (aged 65 or over) in England who don't get the social care they need has risen by 48 per cent since 2010.
This means nearly one in eight older people are struggling to carry out tasks such as getting out of bed, going to the toilet, washing and getting dressed.
Caroline Abrahams, charity director at Age UK said: "The sad irony is that it would be far more cost effective, as well as infinitely more humane, to give these older people the care and support they need."