Liberal Democrat spokesperson for health, Norman Lamb, has spoken of fears for the social care sector which depends 'very substantially' on EU workers.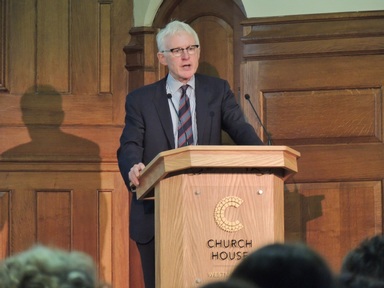 The pressures facing the health and social care systems in the UK are not solely due to finances, according to Mr Lamb, but on increasing issues with workforce, which he believes will be exacerbated by Brexit.
Speaking at the Care England conference on 16 November, he explained: "There are enormous pressures in terms of workforce. I fear that it will be worse if we, as a response to Brexit, really clamp down on immigration.
"Because the system, whether we like it or not, depends very substantially on workers from other parts of the European Union coming to work in our care system and in our health system.
"So these are very real pressures."
'Living on borrowed time'
Mr Lamb told conference delegates that health and social care systems were "living on borrowed time," with increasingly more providers moving from the publicly-funded system to focus on private care.
He said: "The social care system always loses out in comparison with the NHS, and that's the case even when the money was flowing."
Recalling the latter years of the Labour Government, Mr Lamb spoke of the "complete disparity" between the NHS and social care which was unaccounted for in one Labour budget. It stated that there would be a four per cent real terms increase for the NHS, while there would be only a one per cent real terms increase for the social care system.
The former minister of state for care and support added that this gap in funding was becoming ever-more present. He said: "If you think about it, it makes sense to invest more in the preventive end of the spectrum, rather than the acute repair end of the spectrum, but that's what always happens.
"It's a self-defeating process because as we cut back on preventive services, it just loads more pressure on acute services on the NHS end of the spectrum, making their finances no easier at all, and making the gap in funding in the NHS even greater."
'A conspiracy of silence'
Mr Lamb admitted that no political party had genuinely confronted the scale of the problem in health and social care.
He said: "There is, in a way, a conspiracy of silence. The public isn't levelled with about the scale of the challenge that we face, about the projections going forward, about the gaps in both health and care funding.
"So the public doesn't recognise fully the potential solutions, which all involve, in one way or another, more money being spent.
Cross-party call for action
"That's why I keep on calling and I do it jointly with a former Conservative secretary of state Stephen Dorrell and a former Labour secretary of state Alan Milburn.
"Together we argue that there should be a cross-party process, a commission sitting on a time-limited basis of up to a year, critically to engage with the public in an open conversation, levelling with people about the scale of the problem we face."
He said that a process which would lead to a solution was required, calling it a 21st century Beveridge Report.
Mr Lamb explained: "It's quite a long time since that great Liberal, William Beveridge, came up with the concept of the NHS and of the welfare state.
"I think it's about time we revisit this and we make sure that we have a system and a funding approach which is fit for the modern age, not fit for halfway through the last century."
Call for integrated services
Mr Lamb's proposed changes, in addition to the cross-party 'Beveridge Report', focused on integrated health and social care services. He called for a single pool budget in every locality and the single commissioning of health and social care, which many conference delegates concurred with.
He added: "We can only solve these problems together, rather than fighting it out between us. And at the heart of all of this must be the individual.
"It's a dreadful, paternalistic system that so often gets it wrong. Put the power in the hands of individuals and share the resources between the health and social care."
A 'wellbeing premium' for businesses to support mental health
Mr Lamb is a passionate campaigner for mental health, his sister's suicide and son's struggle with OCD spurring him on to push for change and further recognition of the importance of mental wellbeing.
The West Midlands commission which Mr Lamb chairs is pursuing an "internationally recognised, evidence-based" individual placement and support approach.
While this approach is rarely commissioned, Mr Lamb said that the West Midlands will receive funding from the Health and Work Unit for the whole of the region to roll out this evidence-based approach.
He added: "It will be the biggest scheme of its kind in this country. It'll be internationally significant. But how great it would be if we have a process that focuses on helping people with severe and enduring mental ill-health into work."
Focusing on mental health in the workplace, the Liberal Democrat MP said that he also hopes to secure Government funding to trial a 'wellbeing premium'.
Under this scheme, employers would receive a discount on business rates if they undertake evidence-based intervention and train managers and board members in mental health first aid.
This will, Mr Lamb predicts, lead to a stronger, more profitable and productive workforce not just for employers but for the nation as a whole.