Hillary Clinton's done it, now watch Chelsea Pensioners do the Mannequin Challenge
18-Nov-16
Article By:
Angeline Albert, News Editor
In her bid to become President of the United States, Hillary Clinton took the Mannequin Challenge to try to outdo Donald Trump but now Britain's Chelsea Pensioners have been caught on film playing this game of statues.
The Chelsea Pensioners newest and strangest social activity at the Royal Hospital Chelsea, has them doing the Mannequin Challenge - a viral video craze sweeping the internet in which people appear still like mannequins while a video is recorded.
The motionless veteran soldiers found the task was not too tough, despite their advanced years, and they were able to stay perfectly still during many different activities at their 324-year-old home.
The men and women struck poses during a game of snooker, while doing arts and crafts and even mid-sentence as they sat and chatted with each other.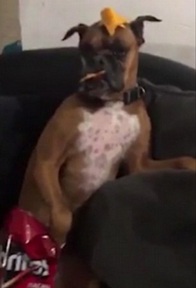 The Mannequin Craze is a phenomenon believed to have started by students in Florida on 12 October.
The challenge has inspired poses by professional athletes and celebrities who have posted increasingly elaborate videos including professional athletes, and as can be seen by the video above, Hillary Clinton was among them.
She decided to freeze like a mannequin in her US election campaign video which urged people to get moving and vote.
Boston the dog
But nothing has seemed more tricky than the efforts of a dog named Boston who is filmed stationary while washing the dishes, baking cakes, and even chilling on the sofa while eating a packet of Doritos.
The Boxer named Boston from Pennsylvania, US, has been filmed by his owner Ryan Thomas staying perfectly still while maintaining a host of complex poses.