Ambulances are failing to reach dying patients fast enough because of problems in the NHS and social care.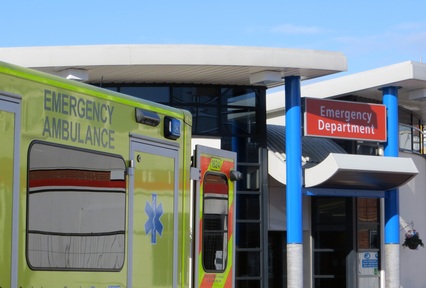 Freedom of Information requests by the BBC revealed that more than 500,000 hours of ambulance teams' time is being spent waiting at A&E to hand patients over to hospital staff.
Alan Lofthouse, lead officer for ambulance workers at Unison, says that one of the reasons for this is the lack of resources in place to safely discharge a patient from hospital and ensure continuity of care on their return into the community.
He told BBC Radio 4: "Ambulance staff are telling us [Unison] about the frustrations they have, waiting for extend periods of time in A&E knowing full well that there are patients out there that do need the ambulance.
"Yet they're really stuck there because of a wider system problem in the NHS and in social care more generally.
"A&Es are struggling to cope, so they're not deliberately leaving ambulance staff waiting outside. But sometimes there really is nowhere that you can safely discharge a patient in the community."
Delayed hospital discharges, or so-called 'bedblocking', have reached record levels recently, due in part to an ageing population combined with issues around social care budgets.
This means that older people with little or no medical needs are stuck in hospitals, unable to return home due to the lack of care services available to them in the community.
Ambulance staff unable to respond to life-threatening calls due to lack of community care for older people
Mr Lofthouse explained that ambulance staff are forced to take people to A&E as many patients, such as older people with non-life-threatening conditions, do not have appropriate community care services to provide the healthcare and support for them in their own homes.
He said: "If they're not present then you need to take your patient to A&E."
This means that ambulance staff are left waiting at A&E, all the while receiving radio calls to alert them to life-threatening situations such as cardiac arrests, but unable to attend due to their current patient occupying their ambulance's trolley or stretcher.
Professor Keith Willett, director for acute care at NHS England, echoed Mr Lofthouse's views.
He said in a Radio 4 interview: "I think the handover issue is a worsening and serious problem, that's why we have been addressing this now over the last two or three years. I would agree very much that this is a system-wide problem.
"It is also about how we manage the flow through hospitals and back out into the community. Many of the handover issues are really a reflection of the pressure on beds and the difficulty we have in that area."
New scheme gives telephone operators time to assess older people's 999 calls
Professor Willett is currently leading an Urgent and Emergency Care Review, trialling ways to improve ambulance response times and general efficiency.
Under the current system, ambulance workers who answer 999 calls have just 60 seconds to identify where the caller is, what the problem is, who the patient is, what the severity of the situation is, and what the urgency is.
If, after 60 seconds, they have not identified the best resource to send, they have to dispatch an eight-minute response ambulance.
However, according to Professor Willett, less than one in ten of those patients require that sort of urgency.
Under the new scheme, Professor Willett and his team have "sharpened" questions asked by telephone operators and allowed them a further 180 seconds to come to a better assessment of the patient's need, provided it is not life-threatening.
He said: "It may even be that they can just have advice on the phone or we can use another resource so that we don't convey patients unnecessarily.
"But more importantly for the patient, they get better care."
He added: "It's the elderly patient, with much more complicated problems, that we need to have that time for the ambulance services for them to make the right decision.
"That will go in some way to helping the demand at the hospital.
"We've now been trialling this increasingly in ambulance services, those two elements over the last 18 months.
"We've looked at over five million 999 calls with absolutely no safety incidents – resulted from taking longer to make the decisions – and we are seeing that the ambulance services are able to respond better."