Older people find Christmas companionship with Abbeyfield charity to combat 'crushing' loneliness and isolation
01-Dec-16
Article By:
Charley Walker, News Editor
Older people's housing and care charity Abbeyfield is opening its doors at its homes across the country this Christmas, welcoming isolated older people who would otherwise spend the festive period alone.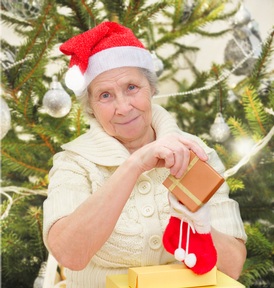 The Companionship at Christmas campaign comes as a result of recent survey findings by the charity, which revealed that 90 per cent of older people feel that company is crucial to a good Christmas, with 73 per cent saying that this extends to sharing food in the company of others.
With an estimated 500,000 older people set to spend Christmas alone this year, the charity will be combatting seasonal loneliness by offering free, festive events across its houses nationwide.
Seventy-eight-year-old Mary will be one of those making the most of the activities and companionship on offer.
Despite enjoying her own company, she finds Christmas Day difficult due to her regular clubs closing for the holiday.
She said: "You find yourself thinking even more about the people you've loved who aren't around you anymore and it makes you feel so sad and even more alone.
"I have a lovely daughter who works so hard. Because of her work, she can't take time off at Christmas so we don't get to see each other. I know that's just how it is these days."
'Washing up is all part of the fun'
This year, however, she will not be spending Christmas Day alone thanks to Abbeyfield's Companionship at Christmas campaign.
She added: "I'm looking forward to Christmas – the food, having people around you, even helping with the washing up – it's all part of the fun and is something I haven't had for such a long time."
Events will include Christmas baking clubs, pub lunches, mince pies and carols, Christmas Day lunches, and even overnight stays for those who would otherwise be waking up to an empty house on the day.
Abbeyfield charity was first founded in 1956 to counter isolation and loneliness in older people. Now celebrating its 60th anniversary, the charity continues to do all it can to counter the "growing epidemic" of loneliness at Christmas.
An alternative to the 'crushing' loneliness and 'painful' memories often experienced at Christmas
Natasha Singarayer, chief executive of Abbeyfield, said: "Enjoying a fun-filled Christmas surrounded by family and friends is something we often take for granted.
"It's heart-breaking to think that for an estimated 500,000 older people across the UK, Christmas is a time of crushing loneliness and isolation, intensifying painful memories of lost loved ones, bereavement and the fear and stigma of being alone and a burden to others.
"Companionship at Christmas will be providing just that – warmth, friendship, and of course great food – during the festive period and beyond.
"We hope as many people as possible will find Companionship at Christmas with us in 2016, enjoying friendship, laughter and festive food in the company of others."