Over half of older people miss having someone to laugh with
02-Dec-16
Article By:
Charley Walker, News Editor
Laughing with another person, hugs and simply being together with someone are the things most missed by lonely, older people, according to a new survey by The Campaign to End Loneliness.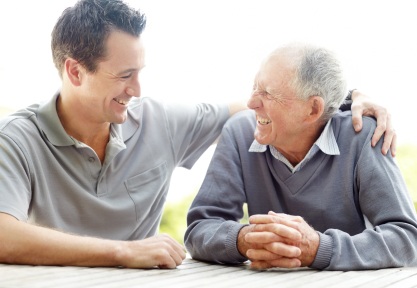 The Campaign found in a survey of over 1,000 over 65-year-olds, that simply being together with someone is missed most of all (52 per cent), closely followed by laughing with another person (51 per cent), while 46 per cent of those surveyed said they miss the warm embrace of a hug.
Chronic loneliness – feeling lonely all or most of the time – is a growing problem in the UK and can increase the likelihood of an early death by 26 per cent.
Eighty-seven-year-old Jim from Manchester described loneliness as a "heavy cloud hanging over you."
He said: "I had long periods of isolation. The loneliness crept up on me and I became depressed, which made matters worse. When you're on your own you forget how to talk to people."
The Campaign to End Loneliness is calling for the development of a national strategy to tackle the issue of loneliness in the UK.
It believes that if local health officials were to put simple measures in place, everyday moments that the survey revealed to be most missed, such as sharing a meal, holding hands and sharing a bed, could easily be restored back into the lives of lonely older people.
Poor health and loss of confidence contribute to 'growing crisis' of loneliness
Laura Alcock-Ferguson, director of the Campaign to End Loneliness, said: "At a national level, we're calling for the development of a UK-wide strategy for tackling loneliness and social isolation to help end this growing crisis.
"Health and wellbeing boards also have a big role to play, and it is vital that every board in the country put in place a clear action plan with measurable targets for reducing loneliness in their local population."
Bereavement, disability, poor health and lack of transport are all factors that can contribute to chronic loneliness and these tend to converge later in life, making it harder for older people to participate in social activities.
These factors, in addition to general loss of confidence, ill health, disability and sensory loss, were considered barriers to participation by those who took part in the Campaign's survey.
Talking about 'small unimportant things' help reduce feelings of loneliness
Ms Alcock-Ferguson added: "Meaningful social connections are essential for human happiness.
"At the Campaign, we want to make loneliness everyone's business and show that we can all play a role in combatting loneliness in their community, whether as an organisation or an individual."
Manchester-based Jim has since moved into a housing community with Northwards Housing where he has been able to develop his artistic talents, starting an MA in Fine Art at Salford University and regularly contributing to exhibitions and events at Manchester Art Gallery.
He said: "Having someone to talk to – just small unimportant things – makes all the difference in the world."
The Campaign to End Loneliness is governed by five partner organisations – Age UK Oxfordshire, Independent Age, Manchester City Council, Royal Voluntary Service and Sense – and works alongside more than 2,500 supporters tackling loneliness in older age.