Fawlty Towers actor Andrew Sachs dies of dementia but much-loved Manuel lives on
02-Dec-16
Article By:
Angeline Albert, News Editor
Best known for being beaten about the head with a frying pan in the 1970s comedy Fawlty Towers, the actor Andrew Sachs, who played Manuel in the sitcom, has died of vascular dementia at a care home for actors.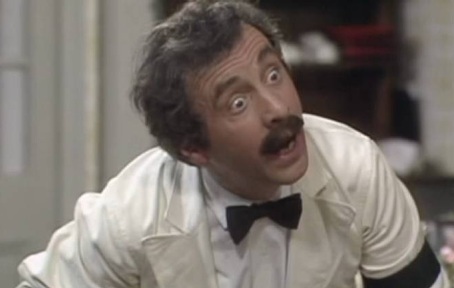 The 86-year-old actor, who played Spanish waiter Manuel in the television show, died at Denville Hall care home in Northwood, Middlesex on 23 November and his funeral was held on 1 December.
'Dementia sneaks in the night'
Andrew Sachs had been diagnosed with dementia in 2012 and moved into the care home eight months ago, after getting pneumonia. But it was only in the last 10 days of his life that his health quickly declined.
His wife of 57 years, Melody Sachs aged 85, told the Daily Mail: "Dementia is the most awful illness. It sneaks in the night, when you least expect it. It took a long time for Andy's brain to go.
"Even about a month before he died he was sitting in the garden and chatting away."
Vascular dementia is the second most common type of dementia (after Alzheimer's disease), affecting around 150,000 people in the UK.
Dementia describes symptoms that can include memory loss and difficulties with thinking, problem-solving or language. In vascular dementia, these symptoms occur when the brain is damaged because of problems with the supply of blood to the brain.
The actor's son has admitted that when Andrew Sachs was played recordings of Fawlty Towers, he no longer recognised what it was he was listening to.
Care home for actors
Private care home Denville Hall has been looking after actors since 1926. Only those who have been a professional actor for most of their career are eligible to live at the home. Kim Cattrall of the hit US television series 'Sex in the City' is an ambassador of the care home along with other actors Dame Helen Mirren and Sir Patrick Stewart of X-men film fame.
Mrs Sachs said of the care home's staff: "I couldn't think of anywhere nicer than Denville Hall. The staff are wonderful."
Andrew Sachs, who was born in Berlin and fled Nazi Germany in 1938, had his heart set on becoming an actor. After winning a place at Rada, he performed on stage and in countless BBC radio plays.
But, it was his knack for physical comedy in the now iconic BBC television sitcom Fawlty Towers that secured his place in the audience's hearts.
Playing a moustached Manuel from Barcelona, he would be repeatedly shoved around, beaten and yelled at by Basil Fawlty the character played by actor John Cleese.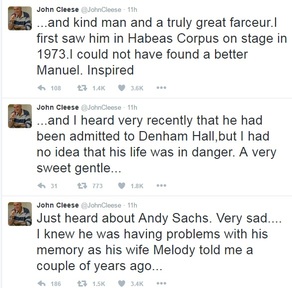 The two actors bounced off each other creating comic gold. But one of the show's episodes saw Sachs badly hurt. Manuel came out of the kitchen after a chip pan fire, only to be pushed back screaming through the door by Basil. But his arm was really burning. For his injuries, Sachs later received £700 in damages from the BBC.
On hearing of his death John Cleese tweeted: 'Just heard about Andy Sachs. Very sad.... I knew he was having problems with his memory as his wife Melody told me a couple of years ago...'
He also tweeted: 'kind man and a truly great farceur. I first saw him in Habeas Corpus on stage in 1973. I could not have found a better Manuel. Inspired'.